Camping in past decades has been all about roughing it, living the way that man used to. You did it to get away from everyday life and to reconnect with nature. In modern times, though, not everyone wants to do that. Today, some people prefer to go "glamping."
In recent years, glamping has become wildly popular. Young people and couples especially enjoy these trips, as they bring style and luxury to their nature retreat. You get all of the benefits of camping – connecting with nature, alone time, etc. while elevating the experience with a few treats that you just can't find in nature.
So what exactly is glamping, and why do people do it? Today, I'm going to talk about that. Who knows? Maybe you will leave wanting to try it for yourself!
Why do people go glamping?
There are several reasons why someone may choose to go glamping. Any of these might even fit what you want and why you may do it yourself! Let's discuss what might compel someone to ditch sleeping bags and trade them in for yurts and beds fit for a king!
It's cheaper than a hotel
Staying in a hotel on your vacation can really drain your wallet. Anything nicer than a motel may cost you about $120 per night. I don't know about you, but I like to enjoy my trip without worrying that I'll be broke by the end of it. That's why someone might choose glamping instead.
At established glampsites, a pod or yurt might put you out $60-$70 per night. There are some sites that charge as much as a hotel would, but you have more options to choose from without sacrificing comfort.
DIY glamping could be even more affordable! You bring your own things and set up your own space, but you save money and still get a luxurious experience overall.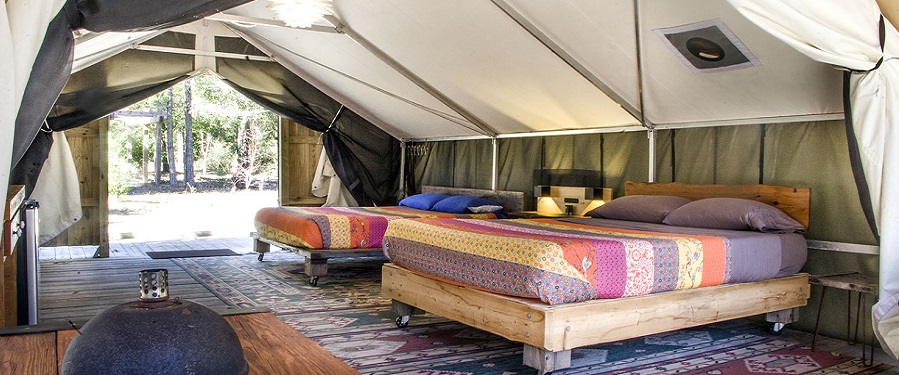 Glamping is a one-of-a-kind experience
Glamping combines the best aspects of a nature retreat with a spa or hotel. When you sleep, you hear the breeze and the soft chirping of crickets instead of people having a party or a spirited argument in the next room. You get some peace and quiet somewhere away from the hustle and bustle of everyday life.
At the same time, you sleep in a comfy bed, you still get your phone, and most places have showers so you can feel and look your best.
Regular camping might be restrictive for some
Traditional camping may be a little bit more difficult for some groups of adventurers. Older people and those with disabilities can't be expected to constantly bend and lift heavy things or sleep on the hard ground. Being far away from amenities could prove difficult for someone who may need assistance.
These people may choose to go glamping because they get to enjoy their time in nature without getting injured or worn out by the end of their stay. What's the point of a retreat if you come back feeling worse than when you left?
"Roughing it" isn't for everyone
Some people skip out on camping because they don't like to live primitively. Building a fire, pitching a tent, and doing "business" in the woods is a turn-off for people who might otherwise enjoy a vacation like this. Everyone should be able to have a fun time when taking a break! Glamping provides an experience that keeps people securely in their comfort zone while experiencing something new.

Glamping can be more fun for families
Parents know just how hard it can be to satisfy every whim of their children. It becomes even more difficult when they get bored and have nothing to do but play hide and seek for the tenth time that day.
Going glamping keeps kids entertained with all sorts of activities and amenities; as an added bonus, they won't complain or cry when bedtime comes around. What is there to be upset about when you get your very own bed when you didn't expect it?!
Parenting is hard enough; glamping provides a family vacation that satisfies everyone's needs.
Glamping allows for more travel opportunities
Established glampsites can be found all around the globe. You can't exactly bring your tent and all of your camping supplies on a plane, can you? No. Backpacking isn't ideal for anyone who does not feel like staying in a hostel or hotel, either. The simplest solution is to go glamping! It's a happy medium between the two.
Making this your plan for accommodations allows you to travel further and for longer. You save money for plane tickets and food, but you aren't sharing bunks with strangers in frightening places. You have your own place for cheap in parts of the world that maybe you didn't think you could go to before.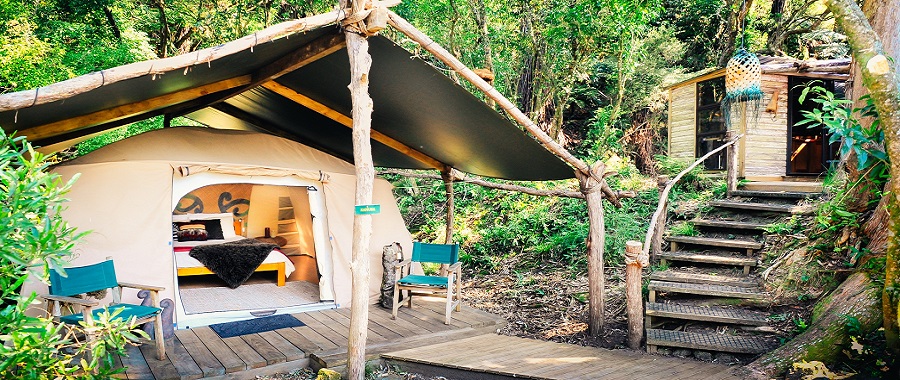 There is something out there for everyone
Glamping provides completely new experiences that anyone would enjoy. Depending on where you go, you could be skiing, kayaking, scaling mountains, or learning how to surf. All you have to do is find a place to come back to after the day is done. DIY glampers can set up just about anywhere, and glampsites generally are located in areas close to all the fun.
How can I get started?
By now, some of you are sold on the idea of going glamping yourselves. That's great! All you need now are the resources to go on your first glamping adventure. Don't worry; everything you need is all right here.
DIY Glampers
Going to an established glampsite may not be for you. You could be restricted by a tight budget or you have a certain spot in mind to set up. Whatever the reason, luxurious camping might be easier to access than you think. Take a look at some of these guides:
With these guides and articles for inspiration, you can turn camping into glamping with minimal effort and without going broke to do it.
Traveling Glampers
If you don't have to/don't want to spend time making your space glamorous, you can always travel to a glampsite of your choosing. All you have to do is unload your luggage and the rest is taken care of!
Before you can choose the perfect yurt, pod, cabin, etc., you have to know what you want and how to get it. Read some of the articles below and you will be prepared to have the best glamping trip of your life.
Some of your essential decision making can be so much easier if you know what kind of glamping experience you want and where you want to go. Knowing what to pack is a huge bonus because first-time glampers often feel like something is missing. With these guides, you can be totally prepared.
Glamping is an experience that everyone should have. Even people who typically enjoy the rugged aspects of traditional camping should take a different kind of trip once in a while. You can still do everything you want while resting your head on a plush pillow at the end of the day. Glamping really lives up to its name. Go out there and find your perfect retreat today!
When did the practice of "glamping" start?
You may think that glamping is a product of the 21st century. While it certainly has become more popular in recent times, the history of glamping may surprise you.
All the way back in the 1500s, glamping was something reserved only for the wealthiest of people. (Of course, they didn't call this practice glamping then.) Kings and nobles would regularly set up camps with large tents while traveling, bringing along their furniture and other lavish comforts. They would have everything taken by carriage just to feel the splendor of home while attending diplomatic meetings.
Eventually, that kind of luxurious living fell to the wayside. Now, glamping is much more affordable and accessible to all; it isn't just for the filthy rich any longer. That is why we've seen a glamping boom within the past decade!