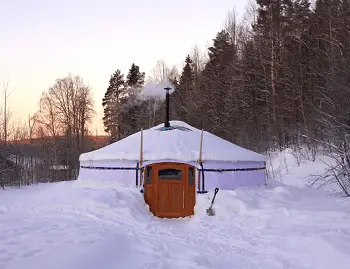 You have been wanting to glamping for a long time now; you have finally saved up all your money for the best trip possible. By the time you have done that, though, winter has come! You may be wondering whether glamping during the winter is comfortable or even feasible.
The answer is simple: yes! If you bring the right gear, follow some friendly advice, and know where to go, you will have a blast. Let's talk about all of those things and get you ready for this fun opportunity that you should not miss out on!.
Here's what we will cover to make your winter glamping trip a blast.
Clickable Table Of Contents
Packing List for Winter Glamping
If you want to be best prepared for winter glamping, you absolutely should consider bringing along a few special items.
Winter Glamping Shelter
For the most comfortable experience, you need a shelter that protects you from the elements and keeps you warm. You do not want to spend your entire trip shivering under blankets, after all. You may want to consider looking at a few of these and see if they suit you!
Arctic Oven 12. This is the tent that traps the most heat, according to many experienced campers. While it may look a little shabby on the outside, you can make the space inside just as glorious as the pictures you have seen on Pinterest or Instagram. It even has room for a little wood burning stove! This is better suited for just two people, though, if you do not want to feel cramped. The downside to this tent is that it's a little on the more expensive side, and it weighs a lot.
If you want the outside of our tent to be a little more glamorous, you can consider buying a tent made of canvas instead. Canvas is heavy-duty material that keeps wind and snow out and keeps warmth in during the winter. This includes the more classic glamping tents like bell tents and yurts. This is an example of a bell tent for glamping, and this is what a yurt looks like.
Bedding For Glamping During The Winter
Glamping is all about having the comforts of home while you are getting away from it all. This is especially important when it comes to choosing the right bedding to pack.
What you really want when you go glamping is a nice, comfy bed to sleep on. During the winter, sleeping on the ground in a sleeping bag is not ideal. The ground is freezing, and that will make for a miserable night. Instead, consider getting an air mattress! Why? Because it keeps you off of the ground, ensuring that you will be warmer and happier.
What I would not recommend is sleeping on a cot or in a hammock. While you will be off of the ground, air will flow freely underneath you and make you chilly.
When it comes to blankets, bring anything soft, warm, thick, and comfortable. It depends on what you personally want, but I would definitely recommend that you buy flannel or sherpa materials. They stay warm and they are unbelievably soft to the touch!
Winter Glamping Clothing
When you go glamping, you want to look and feel fabulous. In the winter, finding something that is not bulky and ugly but still warm can be a pain. Here's a little advice:
Again, dress to your comfort. There are cute sweaters made of soft materials that you can find in almost any department store or specialty clothing store.
Wear scarves and hats to add flair to your outfit while still being protected from the elements.
Wear things like wool, cashmere, sherpa, and flannel. Anything lined with faux fur is warm as well! Never wear denim or something thin like cotton or linen. These will not trap any body heat, and you need it desperately out in the cold.
Space Heater
Perhaps one of the most useful things you can buy before you go glamping in the winter is a space heater. I know what you are thinking. "Don't space heaters need to be plugged in in order to work?" While that is true of your common household heater, there are space heaters specifically designed for camping. This one is an excellent choice! It runs with the power of propane, so you do not need electricity at all to operate it. If you accidentally tip it over, it immediately shuts off. You can relax because the fire hazard is minimal!
Wearable Sleeping Bag
Yeah, they exist. When you wake up and have to go outside to cook breakfast but you dread the cold, you can zip yourself up in this and shuffle out for your morning coffee without freezing! What is more fabulous than taking your bedding with you wherever you go?
Of course, you have much more to pack, but these will be sure to keep you warm, happy, and healthy! Don't skip out if you know what's good for you.
Tips for Glamping During Winter
There are a few pieces of advice you may want to follow if you are going glamping during the winter. They will keep you safe as well as comfortable.
Layer your clothing. There are three layers: thermal underwear, sweaters/jackets, and protective clothing. Many seasoned campers shared a secret that will blow your mind! Your outer layer should be a snowboarding suit. This will keep the snow and cold winds off of you.
Have lotion and lip balm on hand at all times. Cracked, dry skin is not fabulous. My personal recommendations are Hempz lotion because it smells great and makes your skin silky smooth, and O'Keeffe's lip balm. Your skin will be baby soft and happy!
Bring easy meals along and prep for them before you leave. The less time you spend cooking, the less time you have to spend out in chilly weather. Eat from the comfort of your tent with your space heater!
Pack a propane firepit instead of fussing around with wood which may get wet anyway. You will be able to light a fire when you need to easily. This model found on Amazon is highly rated, so check it out! This is a vacation; you should not have to constantly work for everything you want.
Places to Go Glamping in the Winter
If you just do not feel like setting up a winter wonderland on your own, there are plenty of glamping sites around the world for you to make your retreat! Each one offers unique amenities and beautiful views for you to enjoy. It will be just like a 5-star hotel without all of the noisy room neighbors.
Photo courtesy of Westgate Resorts
Glamping Sites in the United States
The Westgate River Ranch in Florida offers safari tents and teepees to sleep in with hardwood floors, furniture, and linen bedding! If that was not enough to pique your interest, maybe their climbing wall and zip line will. This is more suited for those glampers interested in a cowboy, wild west theme. The site is open all year.
Ventana Big Sur in California offers gorgeous views of California's coastline and the majestic redwood forest. You will be sleeping in safari tents in plush, soft mattresses. This place also offers a bathhouse with heated floors, enclosed showers, and a vanity for primping!
The Dunton Hot Springs site in Colorado invites you to stay in beautiful, cozy cabins in the mountains. They offer en suite bathrooms, wifi, a hot spring, a library, and laundry among many other things. Doesn't that sound like heaven on Earth?
Glamping Sites Outside of the United States
If you want to go abroad or you aren't from the states, then check out these beautiful spots to make your temporary home in the winter!
At the Ridgeback Lodge in Canada, you will be staying in a beautiful dome tent with your own shower, wood stove, king or queen sized bed, and a kitchenette! Feel like going out, but you do not want to suffer the chill? No problem! Just kick back and relax in your private hot tub.
If you want to sleep under the Northern Lights, you might want to consider booking with Torassiepppi Jerisjarvi in Finland! The geo domes have a window so you can see the lights from your own bed.
Les Cabanes de Fontaine-Chatel in France offers breathtaking views from treetop cabins. You have the option to get hot stone massages while you are there, which is extremely relaxing. The only downside is that no cars are allowed at the site. You will have to bike or walk there, but it seems well worth it to me!
As you can see, glamping during the winter is not only feasible, but it is a wonderful experience! No matter where you go or what you do while you are there, your glamping trip is sure to be one you will remember for a lifetime. Remember — glamping is all about being comfortable and feeling at home while being away from it all. What are you waiting for? Go relax and enjoy the surprisingly wonderful underside of the harshest season while you can!
Related articles that you will love.
How much to rent an RV? ( Day, week and monthly rates )
How to Go Glamping on a Budget
How to do homemade DIY glamping
What does it mean to go glamping?