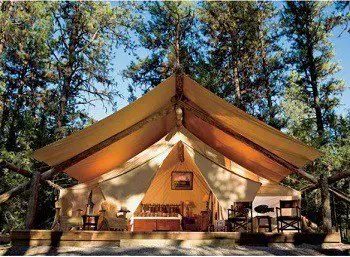 Glamping is the perfect combination of spending time in nature without sacrificing any of the comforts of home.  You can still camp in isolation, enjoying the benefits of solitude and beauty all around you, without any of the pains or challenges of sleeping in a tent and being far from amenities.  But what exactly can you expect to find when you book a glamping site?  What kind of accommodations will there be?
So what are glamping accommodations? The answer is glamping accommodations are always very luxurious with an emphasis on comfort and can include tents, yurts, pods, domes, cabins, treehouses, and RVs.
Keep reading to find out more about each type of glamping structure.
Here's what we will cover.
What are glamping tents?
What are glamping yurts?
What are glamping pods or domes?
What are glamping cabins?
What is a glamping treehouse?
Is an RV glamping?
What is a glamping wagon or shepherd hut?
Related articles.
Clickable Table Of Contents
What are glamping tents?

Traditional camping is often done in a tent which you bring along with you, either in a vehicle or rolled up in a backpack.  The tent has to be assembled and will undoubtedly be rustic and have minimal comforts and amenities.  On the contrary, a glamping tent will be unlike anything you've ever imagined when you previously thought of camping.
The most significant difference is that glamping tents are much bigger than the traditional lightweight camping tent in a bag.  Depending on the campsite, tents may even be permanent structures and will be very steady and secure.  These tents can vary in size, shape, and style, ranging from bell tents to tipis and safari-style tents.
Glamping tents will be designed to look beautiful and are often decorated with whimsical elements. They also have a zip door and windows as well as screens for ventilation.  Inside, the amenities are what take things to the next level.  Many will include a full-size bed, luxurious bedding, rugs, decor, and even a stove.  Some tents have deck attachments and may even have electricity inside as well.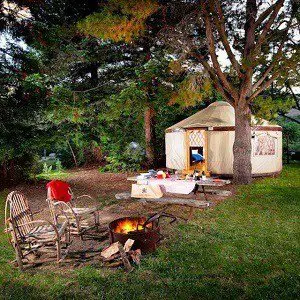 What are glamping yurts?

Yurts are a kind of tent that is round in shape and may have a pointed dome on top.  Originating in Central Asia among nomadic cultures, they have become popular accommodation for campers, and many provide a true backcountry experience.  However, glamping yurts will be made from high-tech materials and are often built on permanent platforms.
They also provide a lot of insulation and may use materials in a brown or green color to give them a rustic look.
Inside the yurt, you will find all the comforts of home, including wood floors, a fireplace or furnace, electricity, and plumbing.  Instead of the traditional wooden frame and felt cover, modern yurts will be constructed out of wood or metal framing and covered with canvas or Plexiglas to preserve an old-fashioned look.
The interior may be decorated in an old-fashioned way to transport you back to simpler times without taking away any contemporary comforts.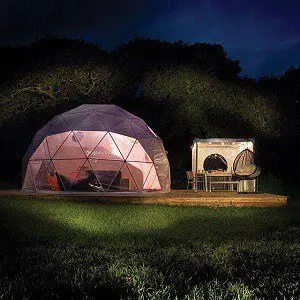 What are glamping pods or domes

The term pod refers to a basic form of shelter and can be built in a variety of shapes such as square, half-moon, or hexagonal.  These are self-contained accommodations that are often quite small and usually have a unique or quirky shape.  Although they may be tiny, they are more secure than a tent and will be constructed from solid material with windows, a door, and insulation.
Some glamping sites may have several pods scattered throughout the area which can be rented.  The pod may also be empty, so you will need to bring your own camping gear, but the pod itself does lend a bit of luxury to a traditional camping trip where you would be sleeping on the ground.
Other pods will be fully furnished with a kitchen, bathroom with running water, and a separate bedroom and living room.
Domes, on the other hand, are exactly as they sound: dome-shaped structures that often have a futuristic look.  These domes, sometimes called eco-domes, are inspired by nature and are considered to be one of the most efficient structures.  The geometric, hexagonal design helps the dome withstand extreme weather and forces of nature.
Glamping domes are often very spacious, and many domes provide panoramic views of their surroundings and the stars at night.  Glampers enjoy the protection of shelter while still experiencing a closeness to nature.  Inside the dome there beds and heat sources such as wood-burning stoves.
Other creature comforts include kitchens and en-suite bathrooms, plenty of warm pillows and blankets, and beautiful decor.  Many glamping domes also include wood-fired hot tubs, either directly inside the dome or on the deck just outside.
What are glamping cabins?

Many campers have probably rented out cabins, and there are very minimal backcountry cabins which can be reached via hiking or skiing.  Similarly, glamping cabins take this well-known accommodation and improve upon it by providing the amenities of a luxury hotel with the rural charm of a wooden cabin.
The interior of the cabin is often sparsely decorated, letting the wood elements be put on display and featuring bare beams across the ceiling and unpainted wood walls.  Cabins are furnished with beds, couches or futons, and a full bathroom and kitchen, including stove top and oven, microwave, refrigerator, and all the utensils and dishes needed to cook and enjoy a meal.
Many glamping cabins will also have air conditioning and heating as well as doors and a window to help regulate the temperature.  Outside there may be a fire pit, porch and seating to enjoy the outdoors and read or dine in the evenings.
Cabins are often located quite rurally so you can feel a sense of isolation and experience wildlife in their natural surroundings or hear a flowing creek just feet away.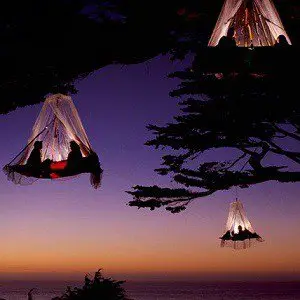 What is a glamping treehouse?

One of the most unusual yet perhaps the most fun type of glamping accommodation is the treehouse. Bringing back memories from childhood, these treehouses transport you up into the greenery and provide stunning views of the landscape.  You'll get to hear birds chirping and the wind rustling the leaves, serenading you to sleep.
Some treehouses have a traditional ladder that is used to reach them while others might have unique elements like a fireman's pole to slide down.  Larger treehouses may be built around several trees and include multiple rooms or even several stories and a deck.
Spending time among the trees and seeing the treehouse all lit up at night is a truly magical experience.
It might be hard to believe, but glamping treehouses are fully furnished and also feature private bathrooms with running water and a kitchen where you can cook meals.  In the cupboards are all the utensils and cooking tools you'll need, including spices, tea, and coffee.
They also provide wifi where accessible and flat-screen TVs while others also provide a hot tub out on a private deck.  You'll be wondering how in the world they got everything up into the treehouse.
Is an RV considered glamping?

The answer to this varies according to who you ask. While all RV's offer more of the luxuries of home, some fit into the definition of glamping more than others.
While RV camping is more comfortable than sleeping in a tent, it probably isn't the first thing that comes to mind when you think of glamping.  However, just like anything else, there are many high-end RVs which are bigger than some homes and as luxurious as a five-star hotel.
Even though they are on wheels, RVs come equipped with a full-size bed, kitchen, bathroom, and expansive living space.  You can cook in your own little kitchenette and store leftovers in a functioning refrigerator.  At the end of a long day, take a hot shower and kick back in the living room to watch a movie.
If it gets chilly outside, you'll have additional clothing such as sweaters and jackets right at your fingertips, and they won't be icy when you put them on.
The portability and mobility of an RV also can't be beaten because you can travel in comfort and stop along the way to prepare lunch or take a break.  Your travel companions can also rest in the back of the coach while one person drives, providing ample entertainment for young children to ward off travel boredom.
In addition to RVs, trailers such as the Airstream are becoming more and more popular among glampers because of their retro or nostalgia element.  These little silver trailers can be placed permanently in a beautiful location or towed around to almost any destination.
What is a glamping wagon or shepherd hut?

One glamping trend seems to be taking accommodations that are traditionally very rustic and uncomfortable and turning them into something spectacular.  Lately, wagons and shepherd huts have become very popular among glampers, and their unique charm adds to their appeal.
Wagons that look like the traditional Conestoga covered wagons will remind glampers of simpler times when homesteaders made their way across the prairie.  The wagons are complete with wheels but are secured, so there's no danger of rolling away.  A set of wooden steps going up to the entrance makes it easy to enter the wagon.
The classic canvas cover curves overhead, providing ample room and the bed is often fitted right in the center to accommodate a couple.  Other wagons include bunk beds along the sides to sleep more people and are perfect for families.
Some wagons will include a small kitchenette, wood stove, and a bathroom.
A shepherd's hut was a small lodging that was used by a shepherd while raising sheep or when lambs were born.
Originating primarily in the United Kingdom and France, these mini accommodations often had iron wheels and corrugated iron tops.  The huts provided a living space and were built to give the shepherd durable accommodation that could be moved from field to field.  Many had a stove for warmth and cooking and a window, so the flock of sheep was visible to the shepherd at all times.
Today, shepherd's huts are popular as a type of glamping accommodation and resemble tiny houses on wheels.  They have a set of steps to reach the door and can usually only accommodate 2-3 people due to their small size.  However, glamping shepherd huts come with modern amenities such as a bathroom and kitchen, although the appliances may be in miniature or include basics like a microwave and convection oven or hot plate.
As you can see, there is a wide variety of accommodations when it comes to glamping.  Others that were not mentioned in detail here include barns, farmhouses, old trucks, railroad cars, airplanes, greenhouses, old buses, cottages, windmills, houseboats, lodges, tiny houses and more.  Anything you can possibly imagine has probably already been turned into a glamping accommodation by someone.
When it comes to glamping, comfort is of utmost importance, but many accommodations also incorporate imagination and feature unique structures and amenities.  The sky is really the limit when it comes to finding a one-of-a-kind location to spend your vacation, and you'll be spoiled for choices.  No matter which glamping option you choose, you're sure to have a wonderful experience and create lasting mem
Here are some more articles we think you will love.
What does it mean to go glamping?
How to Turn Camping into Glamping
How to do homemade DIY glamping
Glamping on the Beach (Setting up, Packing List, Safety)
How to Go Glamping on a Budget
How to Go Glamping With Your Dog? (What to pack and Activities)