Getting into the world of glamping is a ton of fun, but it can be overwhelming at first. There are so many things to pack, and each item has several different categories to choose from. This is especially true for the most important list item of all: a tent.
So what exactly is a glamping tent and what is it called.
A glamping tent is a luxury version of or large version of any tent. For example, if you are talking about regular tents, people often call cabin tents glamping tents since they are the large version and can have amenities or luxuries that you could not have in a small tent. Some tents like yurts are ideal as glamping tents since they are usually large by nature but the canvas shell is thicker and this in return makes luxuries like heating and cooling more viable.
When it comes to glamping tents, there are four main types, the bell tent, Yurt, Tipi and cabin tent.  They all look different, accommodate different groups, and have unique pros and cons. We will go over the names of each, the pros and cons of each, and which tent you should get based on the experience you want from your glamping trip.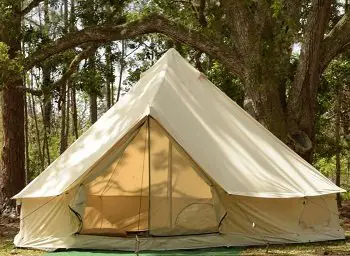 Clickable Table Of Contents
Glamping Bell Tents
Bell tents are the most classic glamping tents on the market. It is very likely that you have seen several pictures of them on Instagram or Pinterest while searching for glamping guides. There are great reasons why so many glampers love them!
What are Bell Tents Made Of?
Typically, the most popular bell tents are made up of cotton canvas. This material is lightweight and breathable while the canvas has weatherproofing properties. While most are beige or white in color, you can find colorful and unique ones, too!
Pros of Glamping in Bell Tents
They are spacious. The ceiling gives most glampers room to stand up fully. That makes changing clothes so much easier! There is plenty of floor space to set up camp on, too. You could comfortably fit a queen size bed or two in one, or one bed with other furniture.
Depending on the model you buy, you get lots of features. Bell tents have vents, and sometimes, they have space to accommodate a wood-burning stove with a chimney pipe.
The smaller models are easy for one person to set up. Bigger ones may require two people, but the whole team does not have to pitch in just to set up.
Cons of Glamping in Bell Tents
Bell tents do not come cheap. You should really only consider buying one if you are prepared to use it again in the future. Otherwise, you will be wasting a lot of money for just a week of use.
Inside, you have one large room. This means you have no privacy unless you decide to hang up blanket barriers or buy privacy tents separately. This can be especially awkward if you are coming with a group.
The entrances can be a little low. You will have to stoop to get inside, which can be a dangerous game to play for those with back issues.
Who are Bell Tents Best For?
Bell tents would be best used for a couple or a small family. While they are quite roomy, a tent that can technically sleep six people will get crowded. Glamping is about comfort and luxury, and you don't want to feel like a bunch of sardines packed into a can.
Glamping Yurts
Yurts are rounded tents similar to the bell tent, but they are held up by several beams instead of just one in the middle. They were originally used by nomadic people and families in Asia. Today, they have become popular tents to take camping or glamping; some people even choose to make a yurt their permanent residence!
Pros of Glamping in Yurts
The extra support beams make the tent sturdier against wind and other inclement weather. They also give the tent more space because the fabric is pushed out of the way more than it would be in a bell tent.
They are aesthetically pleasing. They make for the perfect Instagram pic, and they make you feel like you are living in the lap of luxury!
Yurts are pretty weather resistant and waterproof. Even with the seams around the roof of some models, you should be safe from leaks.
Cons of Glamping in Yurts
Yurts may keep the rain out, but they do nothing to stop insects and other small animals from getting in. If you are too terribly afraid of spiders, crickets, beetles, etc., then you would probably want to go with a tent that has no seams or space between the wall and floor.
Many models do not have windows. You can't enjoy the scenery from the comfort of your shelter. You might actually have to go and brave the uncomfortable elements outside.
Yurts are even more expensive than bell tents. They offer more room and support, but they come with a hefty price tag. Especially luxurious yurts cost thousands of dollars.
They are hard to set up without extra sets of hands on board. You will need everyone to pitch in.
Who are Yurts For?
Glamping in a yurt is suitable for small families. A couple alone might want to go with something a tad smaller. Larger groups could technically fit, but then you would have a space issue again to deal with.
Glamping Tipi
Tipis are conical tents, still rounded on the floor but coming to a point overhead. They were used originally by Native Americans of the Plains tribe, housing entire families. They are made of canvas, a rugged material.
Pros of Glamping in Tipis
Canvas is made for the outdoors so that it will be durable and last for a long period of time. If you buy a tipi made of this material, you can count on using it in future glamping trips with no problem.
They are usually quite easy to set up, sometimes even easier than setting up a bell tent depending on the size you choose to purchase.
Tipis are warm in the winter and cool in the summer naturally, so you can spend less on heating and cooling accessories, using the funds for something else you wanted!
Canvas is known for its weatherproof properties, so you do not have to worry about rain, wind, snow, or sleet while you take shelter in a tipi.
Cons of Glamping in Tipis
Most tipis sold on the market now are smaller than what you see in those historic photos. This means that you will have less room to stand than you might in a yurt or bell tent.
They definitely can feel less spacious because even though there is actually plenty of room, the tapered design on the ceiling makes the walls feel like they are closing in. It all depends on the specific dimensions of the tipi you want.
There is a beam holding up the roof of the tipi from the center of the room. Because of that, you will have less space to set up beds and other furniture. You have to be crafty and clever to still make your space walkable and five-star experience worthy.
If your tipi is not made of canvas, you may have trouble dealing with the elements. Thin fabric will make you too chilly in the winter, and it may not keep out moisture as well as you would think.
Who are Tipis For?
Tipis are probably best used by a couple or a family with one small child. This will still give you enough space without being cramped.
Cabin Tents
Cabin tents are large, "house-shaped" tents, sometimes having multiple rooms inside. They are what you would see in a typical camp setting, but the size makes it great for glamping, too. They can be traditionally set up, but some models are "instant" which means that they are much easier to pitch.
Pros of Glamping in Cabin Tents
The sheer size of the cabin tent ensures that you have ample room for anything, and the ceilings are usually quite high. You can stand up in them easier than you would in a small tipi or any regular camping tent.
The multiple-room models add sufficient privacy for all glampers that may be staying in the same tent. You can designate one to be a changing room if you want. You have a lot of options
Cabin tents generally tend to have lots of windows. This means that you can stay safely in the shade out of the sun while enjoying the views that nature has to offer.
Cons of Glamping in Cabin Tents
Since they are so large, they are usually heavier than other tent types you may bring along. They also take up more room in the vehicle you are using to get to your final destination.
Lots of windows mean that rain can easily get in if the wind is blowing the right way. Some may have zippers to keep rain out, but others will give you trouble in bad weather situations.
The traditional models are harder to set up. You will need a team to assemble your shelter, so consider this fact carefully if you are only bringing a small group.
Who are Cabin Tents For?
Cabin tents are suited for all group sizes! The wide range of models makes it easy to choose what you will need. Some can sleep up to ten people comfortably. Glampers with large friend groups or families may want to look at these before something like a yurt or tipi.
Glamping tents go by many names, all with their own unique features. It is up to you to decide what best suits your tastes and group. Once you pick what you need, the rest is a breeze! Good luck and have fun on your trip with the right tent for you.
Related articles
30 Cheap Glamping Accessories (Cheap luxury camping Accessories)
How much does a glamping dome cost?
How much to rent an RV? ( Day, week and monthly rates )