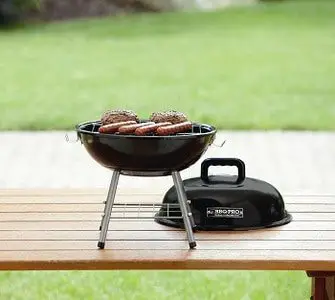 While there are many different ways to cook while camping, the tabletop grill is one of the most portable grill options. These grills are offered in wood burning, charcoal, and propane options.
What do you look for in a tabletop stove? The best tabletop grill for camping will be small, portable, and fuel efficient. While some use charcoal or wood, even these can be designed to burn longer so that you have plenty of cooking time, without requiring loads of fuel.
Here's what we will cover so that you can find the best tabletop stove for you.
Adavantages of a tabletble grill
What types of tabletop grills are there
What type of camping you need a tabletop grill for
Caring for tabeltop grills
Tabletop grill safet
Related articles
Clickable Table Of Contents
Advantages of Tabletop Grills
There are many advantages to using tabletop grills for camping. These grills are usually compact, easy to carry, and have room to cook a full meal for you and your family. Many forests and campsites don't allow fires on the property, making tabletop grills the perfect portable option for cooking.
Tabletop grills can be used for any type of food. Burgers, hot dogs, barbeque, and more can be cooked to perfection on a tabletop grill. Some grills offer attachments in which you can add that allow you to use a skillet or pot. This is perfect if you plan to make a breakfast hash, stew, or other food that can't be cooked on the rack of a grill.
While there are three main types of tabletop grills, all three have their advantages and disadvantages. Choosing between the three relies mostly on both preference and fuel sources. If you have room to bring plenty of fuel, a charcoal or propane stove may best fit your needs.
If you're camping in a primitive area and don't have much spare room in your vehicle, a wood-burning grill may work best for you, as you can find fallen wood in the are in which you're camping.
What Types of Tabletop Grills Are There?
There are many types of tabletop grills out there, as well as many manufacturers that have their own designs. The three main types of tabletop grills are propane, wood burning, and charcoal. Generally speaking, charcoal tabletop grills will be the least expensive, although you do still have to purchase the charcoal separately.
All three types of grills usually include a thermometer on the lid, making cooking a breeze.
Propane tabletop grills are the most common amongst this style of grill. These are very similar to camp stoves and backpacking stoves regarding functionality. One significant advantage of propane grills is the grill will cool off much faster than other styles. In addition to cooling off more quickly, you don't have any ash or soot to clean up once you're done.
Propane grills are offered with many different features including flame control, thermometers, and attachments that allow you to cook in a pan on top of them. This is especially useful if you plan to cook things that require boiling water.
Charcoal tabletop grills are the second-most common type of grill. These are very similar to a grill that you'd take to the park or have on your back porch. One advantage of charcoal grills is that you won't have to worry about refilling a propane tank. There's nothing worse than cooking while camping and running out of fuel.
Charcoal grills will have a longer cleanup process than propane grills. These grills will take longer to cool off, as you can't just turn the propane off. You will need to put the fire out, then wait for it to cool. Afterward, you will need to discard the ashes and clean the soot off of the grill.
Wood burning stoves are the least common type of grill, but they have some advantages over other types of grills. Wood burning stoves often come with an electric blower that is built-in to help keep the fire going, as well as being able to adjust the heat somewhat. The only disadvantage of this is you will need a source of power. Many of these grills come with a 12v car adapter.
One advantage to these grills is that you don't have to buy charcoal or propane. As long as you find good, dry, hardwood, you will have fuel for your grill. This is the most efficient type of tabletop grill.
What Type of Camping Should I Use a Tabletop Grill?
Tabletop grills are great for all types of camping except for backpacking. While they are compact, they are still too cumbersome and heavy to carry on your back for any long distance.
If you're tent camping close to your car, or camping out of an RV or camper, a tabletop grill is perfect for you. Tabletop grills are usually around the size of a briefcase, only a little taller. These grills are easy to set up, as well as easy to clean up and put away for storage.
All three types of tabletop grills will be suitable for RV camping, as you will have a power source for a wood-burning grill with a blower. If you're camping near your vehicle, you will also have ample space to carry extra charcoal or propane.
If you're backpacking, you may want to consider something more like a backpacking stove. There are many types of backpacking stoves, and although most are propane, you can also find them that burn on denatured alcohol or even wood.
Backpacking stoves are very compact and pack well into your backpack. Many of these stoves weight just under a pound, making them excellent for backpacking.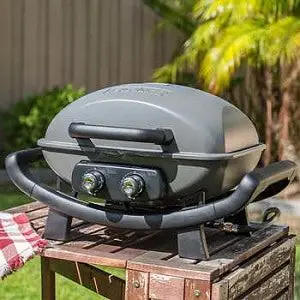 Caring for Your Tabletop Grill
Any time after you use your tabletop grill, you need to make sure that you clean it properly to prevent rust or any unwanted food residue. Cleaning is especially important if you plan to cook food that is greasy, as the grease can spatter all over the grill.
If you're using a propane grill, your cleanup will be the easiest. There will be no soot or residue from the fire with this type of stove. Simply clean the rack portion of the grill with a sponge and dish soap and wipe the lid down with a damp rag or paper towels.
If you're using a charcoal or wood-burning grill, the cleanup process will take a little bit longer, as you'll have ashes and smoke residue on the lid of the grill. As with a propane grill, clean the rack portion of the grill with a sponge, water, and dish soap. If you have tough baked-on food, you can use a wire brush to get this off.
On charcoal grills, if you have leftover charcoal, you can keep it in the bottom and re-light if you're planning to cook again on your trip. The rack portion is most important to clean, as it will have leftover food that may be stuck on.
If you're packing up to end your trip, be sure to properly dispose of any leftover charcoal or wood. Once the grill is empty, use a wet sponge or rag to clean the rest of the grill. Be sure to clean any smoke residue and wipe any ashes that are left on the bottom. Proper cleaning will ensure a long life for your grill.
Safety When Using Your Tabletop Grill
As with any type of grill or camp stove, it is always important to be safe while cooking. The following tips are a guide to stay safe and enjoy your grill time and time again.
Always check propane grills for leaks. Propane has a strong odor and can be smelled easily. If the grill is off and you smell propane, do not light the stove. Check any hoses and connections to be sure that they're tight. A leaking grill can be dangerous.
Always be sure that the valve on the propane is off and the valve is tight before disconnecting.
Never use a propane stove indoors. Propane produces carbon monoxide when it burns and can be deadly. Be sure that the area you plan to cook in is well ventilated.
Once you turn off your grill, be aware that it will still be hot for quite a while after using it, especially charcoal and wood burning grills. Always allow at least an hour for your grill to cool before touching or cleaning it.
Always properly clean your grill after use, especially propane stoves. Food and grease can clog the holes in the burner and cause the grill not to burn correctly.
If your grill is ever damaged, always be sure that the damage won't cause any issues that can be a safety hazard. Leaking propane, faulty burners, or rusted holes can all be potentially dangerous.
Be sure that the location that you plan to use your grill is clear of flammable or combustible materials.
Always store your propane tanks in a cool, dry place when not in use, and properly recycle them once they're empty. There are recycling centers that accept propane tanks and assure that they will be appropriately taken care of instead of being thrown in a landfill.
No matter what you're cooking or where you're cooking it, there are plenty of options on the market to meet your needs. Always follow guidelines of where you're camping and be sure that grills are allowed on the property.
More articles that you will love.