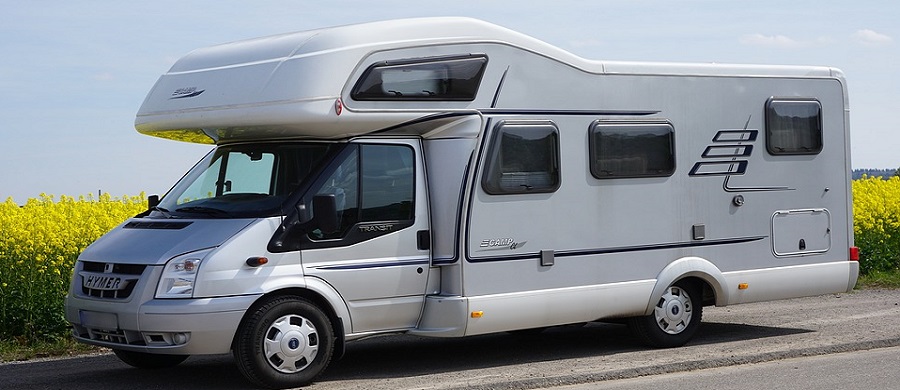 An RV is a costly investment. For those who don't use their RV very frequently, it may help to subsidize the cost of purchase and maintenance by renting out your RV. However, there are a few things you should consider before choosing to offer your RV to others.
One of the most popular and safest ways to rent out your RV is by listing it on a popular RV rental website such as RVshare or Outdoorsy. Renting out your RV privately can be tricky and unsafe.
If you do choose to list your RV, there is a checklist of things that must occur before and after the listing. Overall, it can be a simple way to make additional income without too much effort on your part.
Clickable Table Of Contents
Why You Should Rent Your RV
RVing is one of the most popular ways to tour the country. Individuals enjoy being able to travel from place to place without having to rent a hotel or pitch a tent. Better yet, all of their belongings easily travel with them and do not have to be packed into suitcases or left at home.
Because of RV's popularity, many individuals are interested in purchasing them. However, the initial purchase price can be daunting. When you factor in the costs of maintenance and storage, the total can be out of a lot of people's price range.
As an RV owner, you know the joys of traveling the open road, pulling into new destinations, and meeting other great campers along the way. Renting your RV can be an awesome way to share the RVing spirit with others.
In addition to providing renters with an affordable and fun vacation option, you can also earn a little bit of income. Renting your RV can produce a moderate amount of cash flow, and the best part is the effort required on your part is minimal.
Aside from making money, renting your RV may actually be able to help you save a little. Instead of paying for hefty storage fees, you can rent your RV and have someone pay you instead.
Pros & Cons
As discussed above, there are a handful of advantages to renting out your RV.
Share the RVing spirit. You will get to help others enjoy all of the pleasures an RV has to offer. They will be able to tour the country and spend time with their family and friends, whereas they may not have been able to afford the costs of purchasing an RV outright. Alternatively, they may want to check out if the RV lifestyle is really for them, and your splendid rig may be just the thing to persuade them.
Make some extra cash. Renting your RV will undoubtedly earn you some additional income. The amount of money you earn depends on a couple of factors, but it is extremely likely that you will earn more than if your RV was just sitting in storage.
Avoid storage fees. While making money, you can actually be saving money as well. Instead of spending to winterize or store your RV during the off season, you can pocket that money and rent it out to others to enjoy.
Unfortunately, as with almost every decision, there are a few drawbacks to renting out your RV. The fear that many cabins and summer home owners face when renting out their residences is uncertainty about the type of person renting your property and the possible resulting damages.
Choosing to loan out anything you own can be daunting. You hope that whoever borrows your item is as considerate and safe with it as you are. Someone else will be using your RV, driving it, and it will be spending quite a bit of time out of your sight. If the stress and anxiety associated with this are overwhelming, renting it out may not be worth the emotional toll.
In addition to the wear and tear on your nerves, there will be physical wear and tear on your RV as well. The downside to not storing your RV is that it will be racking up miles in the meantime. Essentially, your RV could have up to three or four more months (depending on how long you typically store it for) of extra use and all of the wear and tear that comes along with it.
Finally, you will need to get your RV ready for rental each time you plan on loaning it out. This means that you will need to remove all of your personal belongings. Furthermore, you will need to make sure that the unit is clean, tidy, and in good condition. This can be more of a hassle than anything, but overtime, it can become quicker and easier.
Stress and anxiety about who is renting and driving your RV. It can be worrisome to think about who is renting your RV and how they are treating it.
Extra wear and tear. Renting instead of storing means that your RV will be racking up more miles than it would be if winterized and experiencing additional wear and tear caused by normal use.
Sanitizing it of your personal effects. It can be a pain to have to move your personal belongings each time you use your RV and then rent it out. You also have to inspect it prior to each rental to make sure that it is clean and safe.
Thankfully, if you use an RV rental listing website such as outdoorsy.com or RVShare.com, you will have much less to worry about due to their stringent vetting process and insurance coverage policies.
What You Can Expect to Earn
So now that you know the cons associated with renting your RV, you may be asking yourself if it is really worth it. How much can you really expect to make from renting it out?
RVShare notes that you could make anywhere from $5,000 to $30,000 a year by renting out your rig. Of course, this depends on the type of RV you have, its condition, the interest in it, and a few other factors.
It can be helpful to use websites such as RVshare or Outdoorsy in order to view other similar RVs in your area and how much they are renting for. Current estimates from RVShare are as follows*:
Travel Trailer: $22,000/year
Class A Motorhome: $60,000/year
Class B Motorhome: $30,000/year
Class C Motorhome: $38,000/year
Fifth-Wheel: $22,000/year
Pop-up Camper: $22,000/year
Toy Hauler: $22,000/year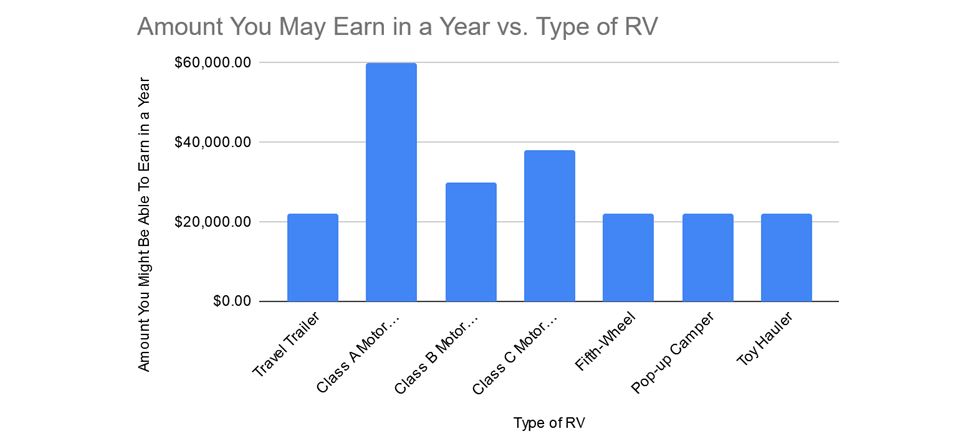 *These numbers predict the maximum amount you could make in a year
Similar to when you are purchasing an RV, the larger and more luxury models will cost more, the fancier and bigger RVs can be rented for a larger sum. The usual daily and weekly rates for each type are listed below:
Travel Trailer: $ 87/a day, $ 616/week
Class A Motorhome: $ 225 /day , $ 1,575 /week
Class B Motorhome: $ 150/day , $ 1,100/week
Class C Motorhome: $ 175 /day , $ 1,225/week
Fifth-Wheel: $ 105/day, $ 1,470 /week
Pop-up Camper: $ 75 /day , $ 525/week
Toy Hauler: $ 100/day, $ 400/week
There are usually no upfront costs associated with listing your RV. In most instances, the listing company only makes money when you make money. You can think of this fee as a sort of commission, usually ranging between 10% and 15% of the total cost.
This is not a high price to pay when they do the vetting of renters, the listing and promotion, customer (renter and owner) support, and provide roadside assistance and insurance. In addition, they provide secure processing of payments, so you don't have to worry about securely receiving and transferring funds.
However, bear in mind that you may not make those higher daily/weekly/yearly numbers right off the bat. It can be important to build your sales and reputation by offering your RV at a competitive price instead of asking a fortune.
You don't want to choose too low of a number because of the commission fee listed above. If the listing company will be taking 15%, you can expect to make between 80% and 85% (due to taxes) of the total reservation costs. Therefore, it may be a good idea to factor this listing fee into your decision of how much to list your RV for.
When to Rent You RV?
When you rent, your RV can also affect the listing price. It is likely that you will want to be using your RV during the temperate fall and spring months, and especially during the warmer summer months. Unfortunately, this is exactly the time renters would like to be using an RV as well.
If you are not traveling for the entirety of the camping season, it can be very rewarding to rent out your RV for a week or two. At the peak of the season, you can expect to receive the higher prices listed for the daily and weekly rates.
One downside about listing during the season is it means that you will not be able to use your RV; if you change your mind about your travel or are invited last minute to an event using the RV will not be an option once it is listed and rented.
You certainly can rent your RV during the off season as well. However, if you don't want to be camping in the cold local renters probably won't want to be either. This means that you will have to rent your RV out to non-locals.
Not everywhere gets frigid in the winter, so there are still plenty of people looking to rent an RV. Fortunately, this means that you won't have to pay for storage fees or the cost to winterize your rig.
Practically any time of year can be a good time to rent out your RV and make a little extra income. If you choose the right listing price, you should have at least a few individuals wanting to take your RV on an adventure.
Costs of Renting Your RV
You may be wondering if there are any other costs associated with renting your RV aside from the commission made by the listing company. The truth is, there may be a few expenses here and there, but they should be minimal.
The first has to do with maintenance. You will want to perform an inspection, either a self-inspection or done by a professional, prior to renting your RV. In many cases, listing companies require your RV to have some sort of certification of the passing of exception prior to approving your listing.
The inspection itself may cost a small sum. If anything is found to be out of order, you must pay to have it fixed. The typical maintenance costs can also be expected.
Realistically, these are costs that you would incur if you were the sole user of your RV, you just may be paying for them more frequently due to the added mileage.
The second cost has to do with cleaning the inside of the RV. If you are not up to the task of sanitizing and clearing out your RV before it is rented, you may want to hire a professional. Additionally, some individuals like to hire a cleaning crew to clean the RV after the rental before they begin using it again.
These costs are relatively small and common; individuals who rent their homes experience them frequently and seem to believe it does not outweigh the monetary benefits of renting.
What Does the Rental Insurance Cover?
So you have almost decided to rent your RV, it sounds like the fees aren't too hefty, and the extra income seems worth it. The last hurdle you are struggling to get over is what if the renter has an accident. Are you covered? Who will pay for the costs of repairs or replacement?
RVShare and Outdoorsy provide insurance.
RVShare partners with insurance agencies to provide RV owners rental insurance free of charge. There are no access fees, no startup costs, or monthly premiums according to their website. It is a service that you receive for listing with them.
They state, "For reservations with RVshare Rental Insurance activated, owners are provided $1,000,000 in liability coverage as well as comprehensive and collision coverage for the value of their RV up to $200,000. RVs 15 years old or newer, with a stated value of $200,000 or less, will automatically be approved for coverage whether motorhome or travel trailer".
For renters, the fee is already included in the rental quote. RVShare provides the following insurance to renters: "For reservations with RVshare Rental Insurance activated, renters are provided collision and comprehensive coverage with a $1,500 deductible owed on a per-occurrence basis. The deductible is collectible from the security deposit. For the rental of a motorhome, renters are also provided state statutory limits of liability.
Renters are covered in all 50 states and Canada, and will be issued a unique certificate of insurance on a per rental basis".
Similarly, Outdoorsy partners with a few insurance agencies; most notably Liberty Mutual. For owners and renters in the United States, they provide the following:
Up to $1 million liability insurance in the US
Up to $1 million in physical damage protection
Interior Damage Protection
Windshield Damage Repair
Trip Cancellation Coverage
Driver Verification Checks
24/7 Roadside Assistance
24/7 Live Customer Support
Safe & Secure Payments
They provide owners with coverage and allow renters to pick their level of coverage.
Insurance provided by the listing agent should help to quell any fears you have about letting others use your RV. It can still be scary knowing that renters are driving your rig and that an accident could happen, but rest assured both RVShare and Outdoorsy have got you covered.
The addition of insurance is one of the major benefits of listing through a website instead of trying to rent your RV on your own.
What Do These Sites Require In Order to Rent?
If you do decide to use a listing site, you will need to check a few items off a preparation checklist before listing your RV. RVShare requires that you call their company in order to set up an appointment with a Rental Coach and go through Rental Training.
This process uses a mentor to ensure that you fully understand the ins and outs of renting your RV, and they will assist you with the steps required to prepare your RV for rent.
Outdoorsy has customer support as well but lists a few of the requirements necessary for rental.
Maintenance. Maintenance reports and records are required to list your RV. This way, the company can be sure that it is safe for renters. They require a tire inspection, as well as regular 90-day inspections of electrical, gas systems, appliances, and brakes. They provide a complete checklist on their site.
A Test Drive and a Top Up. Be sure to fill up on fuel but also make sure that you have filled up the transmission fluid, oil, washer fluid, radiator, and emptied the grey water tank. Then take the RV for a short test drive to check the signals and systems. Be sure that each feature of your RV, such as awnings, are in proper working order.
Clean It Up. Finally, once you have ensured that the RV is ready to go and functioning properly, give it a good cleaning on the inside and outside. Scrub down the kitchen and bathrooms, mop and vacuum, and place fresh bedding on the beds.
Once your RV is sparkling and in perfect working order, you are ready to complete any necessary paperwork and loan it out to some awesome renters.
Tips on What To Do Before Renting
In addition to the steps required by RVShare and Outdoorsy, there are a few additional items you may want to check off; especially if you are planning on self-renting and not using a listing agent.
Remove and personal belongings. Aside from cleaning your motorhome, you will also want to remove any personal belongings. Many individuals choose to leave their utensils, dishes, and pillows and throws; but you will want to remove any special and personal effects. Think of your RV as a mobile hotel room and treat it accordingly.
Make a note of the mileage and generator hours. Make a note of how many miles your rig has and the generator hours. This will help you keep track of how many miles and hours are put on the RV during the rental. You may want to set a daily mileage limit and charge extra for any mileage above and beyond this limit.
Create a pet policy. You may suffer from allergies, or you may not want to risk any damage caused by errant pets, either way, you should create a pet policy. You can either completely disallow pets or set up a policy that limits their species, breed, and weight. Additionally, you can dictate a charge for any damages or egregious stains.
Review insurance coverage. Your typical insurance will likely not cover renters and will be void as soon as you rent your RV out. Therefore, you will probably want to purchase commercial rental insurance so that you are covered in the case of an accident, injury or death, vandalism, or property damage.
Vet your renters. Even with your insurance policy, you likely won't want to rent to just anyone. Listing websites vet their renters, as should you. It is helpful to do a background check, a driving record check, and exchange and email or a phone call or two to get an idea of their character.
Once you have all of your bases covered, you can list your RV privately or with a company.
Self-Renting Your RV
How can you list your RV privately?
It can be difficult to privately rent out your RV. Many individuals, owners and renters alike, feel much more comfortable with using mainstream RV listing websites like Outdoorsy and RVShare.
If you would like to list your RV privately, there are a few ways you can do so. One of them is Craigslist. You can list your rental on the site and set your specifications, prices, and even include pictures. You will want to follow the preparation checklist provided above prior to renting.
An additional option is using sites like Airbnb. Airbnb lets you list your RV like you would a home rental, and would-be renters can even specify in the "home-type" category that they are looking to rent a camper or RV.
In order to rent it out on the site, you have to set up an account to become a host. You then must fill out all of the features and specifications regarding your RV, including location, size, amenities, and provide pictures with a description.
You will want to have your own insurance and will still somewhat want to vet renters as some hosts have had unfortunate experiences using Airbnb. However, the market may be less saturated that websites that list solely RVs, so you may receive a greater amount of interest in your RV.
There may be other websites and platforms that allow RVs to be listed for rental. However, you will want to check the website's policies prior to putting your RV up as available. Overall, it can be much simpler and less worrisome to list your RV through a bonafide RV listing agency or website.
Is Renting Your RV Worth It?
We have covered a lot of information, as well as the benefits and downsides to renting your RV. Whether or not it is worth it depends on your current situation and your comfort with letting strangers use your belongings.
An RV can be a pricey investment, and maintenance and storage costs can be high. If you are feeling the weight of your motorhome purchase and are looking to recoup some of the fees, renting can be a great thing. You can quickly cover the maintenance costs, storage fees, and even make some bonus earnings.
Listing websites like RVShare and Outdoorsy make it easy to list your rig and also provide you with peace of mind. These websites provide insurance coverage, customer support, handle the listing, and offer customer support. The entire process can be made much less daunting with the use of one of these websites.
Alternatively, if you decide to list on your own, the process may be difficult, and your earnings may not be that high. Additionally, it will be harder to vet renters and ensure the well-being of your RV.
Speaking of worrisome renters, even with RV sites, you do not have complete control of what happens to your RV once it is out of your sight. For some, this anxiety and risk are not worth the extra income. If you struggle with loaning out your personal belongings to a stranger, than renting your RV may not be worth it.
Ultimately, you will need to weigh the pros and cons to decide if RV renting is for you. It can be a great way to make some passive income; and if you decide that renting is not for you, you can always decide not to list it again.
More Articles You Will Love
How much to rent an RV? ( Day, week and monthly rates )
RV Storage Average Cost ( Motor-home and Travel Trailer in U.S. )
What is the average price for RV camping?