Camping can be a fun activity for everyone, whether you camp alone or with the whole family! However, before you can start making memories, you first have to set up your base camp. While some may have no problem setting up a tent, others need an easier solution. That is where pop up tents come in!
Today, let's talk about what a pop-up tent is, whether it could be the right choice for your trip, and some examples to help you get started in your search for the perfect model. With a pop-up tent, your camping trip could be a breeze. Let's get started!
What is a pop-up tent?
Simply put, a "pop up" or instant tent is a tent that, when unfurled, springs up on its own. You don't have to worry about stringing support poles through the fabric; you just take it out of the carry bag and go! The only thing you have to worry about is staking it to the ground to keep the tent from moving in the wind.
Clickable Table Of Contents
Who would benefit from a pop-up tent?
Everyone would do well to use a pop-up tent while camping, but there are a couple of specific groups that may benefit from this type of tent the most. These are:
Those with physical injuries or disabilities. Not everyone has the physical capacity or strength to spend a long-time pitching a tent. It involves a lot of bending, stretching, and fiddling to get the thing to stand up. With a pop-up tent, you should not worry about straining yourself; this makes camping while physically limited so much easier!
Campers taking a trip alone. Pitching a traditional tent often takes multiple people if you want the workload to be anything less than overwhelming. A pop-up tent will prevent you from wasting precious time and patience wrestling with a tent all by yourself.
What are the pros and cons of pop-up tents?
As is true of any product you may purchase, there are upsides and downsides to getting a pop-up tent for your next camping trip. Let's discuss all of these to better help you figure out whether or not one may be a good fit for you.
Pros
Pop-up tents are easy to set up. They require nearly no work.
There are plenty of options for all types and sizes of groups.
You don't have to buy lots of extra camping equipment to properly set up your tent.
Cons
These tents are a bit more difficult to get back into the carry bag because all of the parts must be carefully folded before they will fit.
The bag can be a bit heavy because all parts are in one place instead of being broken up like other tents.
Some pop-up tents can be a bit more pricey than other tents because you pay for convenience.
21 Examples of Pop-Up Tents
By now, you likely have a good idea of whether or not a pop-up tent would benefit you on your camping trip. Whether you have decided or you're still questioning, take a look at some of these pop-up tents for sale! You may be surprised and find the perfect one for your needs.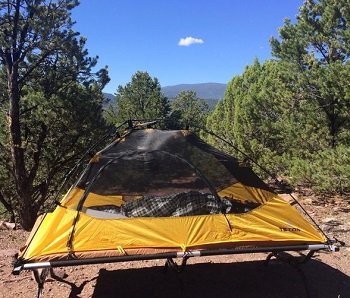 1-2 Person Pop-Up Tents
TETON Sports Outfitter Quick Tent (1 Person)
Comes with a waterproof rain fly
Designed with a mesh top for a perfect view while being sheltered from the elements
5 lbs.
Can accommodate one cot
Review: The reviews make it clear that there is only room for one person, but overall, the reviews for this tent are excellent. The main issue would be most people did not like the rainfly for this tent.
Camp Solutions Camping Tent (1-2 Person)
UV protection to keep your tent and skin healthy
Designed with mesh walls for plenty of ventilation
Folds down into a small carry case for easy portability
7 lbs.
Reviews: Many people are shocked by how small this tent is when flattened and then surprised by just how big it is when expanded. This tent gets good reviews overall.
Night Cat Waterproof Camping Tent (2 Person)
Hydraulic pressure mechanism helps the tent to set up in 1 minute for your convenience
The tent is waterproof and weather-resistant for most climates
Fits a queen or king-sized air mattress
Review: This one gets great reviews for size, but there is some disagreement that it is waterproof. Seems to be water-resistant but the corners tend to collect water under steady rain conditions. This can probably be solved with a footprint.
Abco Tech Pop-Up Tent (1-2 Person)
Double doors for easy entry and exit
Mesh windows for easy breathability
Small carry bag makes this pop-up tent easily portable
7 lbs.
Review: This tent seems to be best used in urban settings or maybe the beach. There seem to be issues with the zippers being too light for heavy-duty use and the windows are held dow by velcro. This means that strong winds will blow them open.
Quechua Waterproof Pop-Up Camping Tent (2 Person)
Exterior fabric guarantees more shade indoors even on the sunniest days
Weatherproof; can withstand rain of all types and strong winds
Can be set up in a record-breaking 2 seconds, according to the manufacturer
30 lbs.
Review:  "I've owned several Quechua tents, and this is by far their best all-around size. The disc is small enough for motorcycle camping. I used this in Alaska for 30 days, and I saved a lot of time setting up and breaking down."
Alvantor Camping Tent (1-2 Person)
The ultralight material allows for good ventilation
A rainfly keeps you relatively safe from water
The tent unfolds and sets up in mere minutes
6 lbs.
Review: "Exactly what we were looking for! Easy to set up. The only disappointment was the "new" factory smell but was easy to remedy with a quick wipe down once set up. This is more of a one-person tent. Two people would be very snug, and there would be no room for extra gear. Lightweight quality and backpack-sized when collapsed. Love it!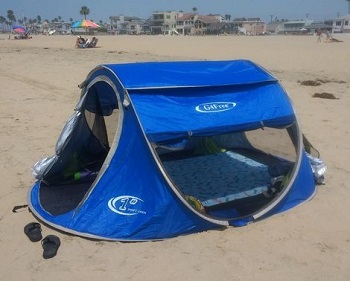 3 Person Pop-Up Tents
G4Free Pop-Up Tent (3 Person)
Can fit up to 2 adults and 1 child; this tent is great for family camping!
The mesh doors and windows provide great ventilation to keep everyone cool in the night
The material blocks most UV to keep you and your tent protected; this helps the tent last longer
41 lbs.
Review: "I really like this tent. The description & photos on the site were accurate & it's just as described & what I wanted. It's very roomy, holds two adults quite comfortably (& if you have picnic bags, etc they fit in the tent w/out you feeling crowded). I also like all of the openings which can be closed for privacy if you wish."
Quechua Pop-Up Tent (3 Person)
The manufacturer claims that this tent can be set up in 2 seconds for your convenience
The vents and flysheet keep the interior of this pop-up tent cool at all times
Waterproof material keeps you warm and dry all through the night
2 lbs.
(no reviews yet; be the first!)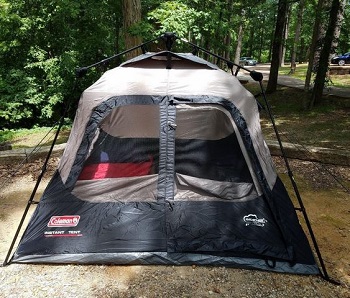 4-5 Person Pop-Up Tents
Coleman Cabin Tent (4 Person)
Has room for one queen-sized airbed
Welded seams make the tent waterproof
Vented rainfly adds extra waterproofing while giving you the ability to remove for more breathability
18 lbs.
Review: "It's comfortable for a full size plus a twin-sized air mattress. It sets up and takes down very easily – sets up in less than two minutes with one person, and less than five minutes to get it stuffed into the carrying bag. It fits in my subcompact car. It stayed dry through 5 straight hours of heavy rain."
Gazelle 22272 T4 Pop-Up Tent (4 Person)
Sets up within 90 seconds for convenience
Rainfly keeps you warm and dry inside of your tent
Rugged zippers stand up to long-term camping without compromising the security
30 lbs.
Review: "Once I attached the rainfly, I was able to set up the entire tent in under 2 minutes. I am 6'1," and I can get in and out easily and stand up comfortably inside. We put a queen-sized air mattress inside and have room for our bags at the end of the bed along with plenty of room on both sides to get in and out."
Coleman Pop-Up Tent (4 Person)
Can be set up in as little as 10 seconds
Taped floor seams keep you dry and protected from the elements
Two storage pockets inside allow you to organize your camping gear
07 lbs.
Review:"This tent is so convenient! My husband and I had a quick weekend camping trip, and I didn't want to set up our big cabin tent for one weekend, so I purchased the 4 person pop up tent. It easily fits a queen size air mattress with plenty of room at the ends for personal bags. You can't stand up in it but plenty of room to sit up even with the air mattress inflated."
GigaTent Trailhead Dome Pop-Up Tent (4-5 Person)
UV protection and mosquito mesh to keep out both environmental threats no matter where you are
3 season tent; can withstand most weather and temperatures
71" peak height for easy walking
7 lbs.
Review:  "Fits five if all in sleeping bags love each other." We can assume that the fit may be a bit tight unless you're all comfortable with each other.
Wnnideo Instant Family Tent (4-5 Person)
Can be set up in as little as 1 minute for convenience
The material is UV and water-resistant
The tent's frame is made to be incredibly durable and resistant to wind
04 lbs.
Review: "Our tent broke, and when looking for another, I stumbled upon this tent a few months back and decided for the price, I had to try it. We have LOVED it. It seriously sets up in less than a minute. It folds up compact and comes easy to store. I love all of the windows. We've used it twice, and we're excited to use it a lot more this summer."
Malamoo Mega Tent
The manufacturer claims that the tent can be set up in 3 seconds, making it one of the fastest instant tents on the market
The tent is completely waterproof, keeping you dry and warm even in the worst weather
Windows on both ends provide a great view and ventilation
96 lbs.
Review: "I have been in this tent in all types of rainy weather, from downpours to very windy, stormy conditions, and not a drop of water has gotten in this tent. The breathable inner stays completely dry. I've had this tent for a year and have had no UV light degradation whatsoever. The vestibule is very large, with a full floor. I highly recommend any Malamoo tent. I bought the smaller Malamoo extra if I solo camp and move to a new site every day."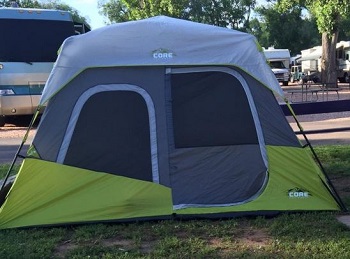 6 Person Pop-Up Tents
CORE Instant Cabin Tent (6 Person)
Can fit two queen-sized air mattresses
Comes with wall organizers and storage pockets for easy organization
Comes with a rainfly, tent stakes, and a carry bag
72 lbs.
Review: "This tent is FANTASTIC! I camp alone or with one other person, and there's plenty of space in here for a full-size air mattress, clothes, gear, could put a couple of chairs in here and a small table, it's a lot of room for 2 people. I also appreciated the 6′ ceiling and being able to stand up straight inside."
Outbound Instant Pop-Up Tent (6 Person)
This pop-up tent is waterproof and weather-resistant with a rainfly and canopy
D-shaped windows and mesh provide ventilation to stay cool and refreshed
Interior mesh pockets make it possible to organize your tent and keep the floor clean
21 lbs.
Review:  "Product is easy to put up with two people and is very spacious on the inside. Excellent rain fly and ventilation. Came with a very small pin prick hole, but is located under the rain fly. Just used some clear silicone and applied over the small hole."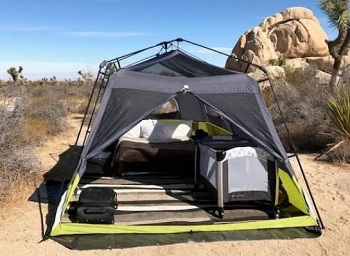 8+ Person Pop-Up Tents
CORE Instant Cabin Tent (9 Person)
Sets up within 1 minute for maximum convenience and ease
Wall dividers and storage pockets make it easy to organize all of your gear and keep the floor clean
Electrical cord access ports allow campers to plug in lanterns, chargers, etc. for a more tech-friendly camping experience
6 lbs.
Review: "My family really enjoyed using this tent during a recent camping trip. We have two young children. This tent was large enough to support our kid-friendly "glamping" experience near the coast in Northern California. The tent fits our extra-large duffle bag, two cots, and a very large queen size blow-up mattress with plenty of room!"
Coleman Instant Family Tent (8 Person)
Has room for 2 queen-sized air mattresses
Durable and weather-resistant, including waterproofing
Can be set up in 1 minute with only 3 steps to the process
5 lbs.
Review: "Wish I could add an extra star for how much we love our Coleman Instant Tents. We actually have several of them and this one like other models we one is no exception. Great ventilation and airflow due to the low sidewall of the screen room. Provides plenty of room for 2 cots, chairs and all your gear. On our first night using the tent, we had severe weather with driving rain and 30+ mile per hour wind. Great tent and extremely easy to set up."
CORE Instant Cabin Tent w/ Screen Room (10 Person)
Sets up within 2 minutes or less for your convenience
There are two rooms for more privacy when camping with a group
Screen room gives you shade and ventilation while still enjoying the outdoors
4 lbs.
Review: "I love this tent! My husband and I took our two kids camping for the first time, and we wanted a big tent. This tent held up great! We had a terrible storm come through on our camping trip, and not one drop of water came into our tent. Definitely recommend."
Ozark Trail 3 Room Instant Cabin Tent (11 Person)
Can be set up in under 2 minutes for your convenience
Room dividers allow for more privacy in big groups; perfect for a couples' retreat!
6 windows and mesh ceilings give plenty of ventilation and breathability
33 lbs.
Review:  "We love this tent. It takes less than 10 minutes to set up completely on your first try. Plenty of windows, lots of space. The third room fits a queen size air mattress. We were able to fit 3 of them in there comfortably. There are rings in the top to hang lanterns in the inside and pockets for personal belongings. We love it."
CORE Instant Cabin Tent (12 Person)
Sets up in 2 minutes or less for your convenience
Removable rainfly provides protection from water while giving you an option for more ventilation in warmer weather
Two entryways add easier entry/exit for large groups; no "traffic jams."
8 lbs.
Review: "After more uses than we can count and traveling across the country camping with this tent we thought we would update our review. WE STILL LOVE THIS TENT!! We just returned from a winter camping trip. Not only did we have cold weather but we also had 10 mph winds with gusts up to 15 mph. Our tent did not even quiver. It has never leaked. It has always had an easy setup and an easy teardown."
There you have it! Whether you are camping alone or with a huge group, there's a pop-up tent for you. Ready to go on an adventure? Don't wait! Get the proper shelter now.
More articles you will love.
Instant Tents ( What are they, How they work, Pros and Cons )
8 Real Tips For Sleeping Comfortably In A Tent (Easy to do advice)
Tent Camping with Kids ( Checklist and Activities )
Tent Camping In An RV Spot ( Can you do it?, Should you do it? )