A sleeping bag is one of the most essential gear items for your camping trip. The right sleeping bag will keep you warm, comfortable, and dry all night long regardless of the weather conditions outside the tent. However, there are a variety of sleeping bag types, sizes, and shapes.
The correct sleeping bag for your trip depends on the climate and what type of camping activity you will be doing. Backpackers, for example, have to carry their gear and will likely want an ultralight bag to conserve weight.
The average weight of various sleeping bags is as follows:
Traditional synthetic-filled sleeping bag: 5-8lbs
Traditional down-filled sleeping bag: 2-5lbs
Ultralight synthetic-filled sleeping bag: 2-3.5lbs
Ultralight down-filled sleeping bag: 1-3 pounds
At the end of the article, you can find more specific bag styles and their weights.
Typically, it is only backpackers who are concerned with the weight of a sleeping bag. Car campers or those with a trailer/motorhome can usually afford to bring along bigger and heavier bags as they are not limited by size or weight.
Examples of Sleeping Bags and Their Weights
Down Filled Sleeping Bags
The UGQ Bandit is an ultralight quilt style bag. It weighs only one pound. Thanks to it's 950 down fill power it has a temperature rating of thirty degrees.
Another very light bag is the Western Mountaineering HighLite 35 sleeping bag. This is a mummy-style sleeping bag that weighs only one pound. The 850 down fill power lends itself to a temperature rating of thirty-five degrees.
The Sierra Designs Backcountry Bed weighs a bit more at two pounds one ounce. But it has a unique contoured design with an included oversized comforter and hood. It even has integrated hand and arm pockets and a sleeping pad sleeve. The 700 down fill power has a temperature rating of twenty-seven degrees Fahrenheit.
The Kelty Galactic 30 Sleeping Bag is a rectangular down-filled sleeping bag. It has 600 fill power and is temperature rated to thirty degrees. This bag weighs two pounds ten ounces
Synthetic Filled Sleeping Bags
The REI Co-op Zephyr 20 Sleeping Bag is a synthetic-filled mummy sleeping bag with a hood. It weighs three pounds six ounces for the longer length and only three pounds for the regular length. It has a temperature rating of twenty degrees.
The North Face Dolomite One Sleeping Bag is a synthetic-filled rectangular bag. It is on the heavier side at five pounds for a regular length and five pounds twelve ounces for the longer length. It comes in a few different temperature ratings due to its interchangeable layers: fifteen degrees, thirty degrees, or fifty degrees.
The LL Bean Deluxe Flannel Lined Camp Bag in Extra Large is a truly heavy sleeping bag. It weighs 8.35 pounds. It has a hood, is extra long, and extra roomy. This bag is ideal for car campers or those with a trailer.
Another very large bag weighing seven pounds nine ounces is the Nemo Jazz Duo Sleeping Bag. This bag is a couple's sleeping bag with a twenty-degree temperature rating. It has a synthetic fill.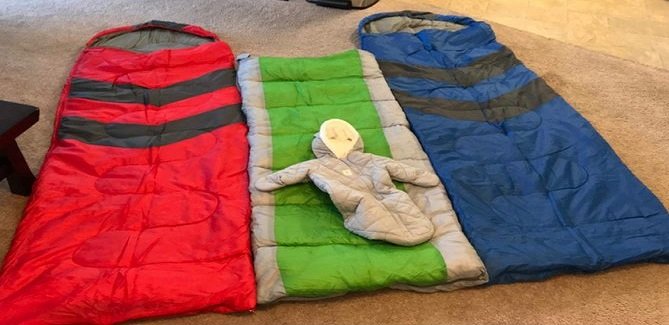 Possible Sleeping Bag Shapes
Sleeping bags come in many forms, including mummy, rectangle, and semi-rectangular. The shape of the bag can certainly affect its weight. Aside from how heavy it will be, sleeping bags are also chosen based on the occupants sleeping preferences and the camping conditions. A well-fitting bag will trap heat against your body, while a loose bag will have cold pockets.
There are three standard bag shapes.
If you want a really warm bag that doesn't take up a great deal of space, opt for a mummy shape with a snug fit. These sleeping bags include a hood that frames the face. They can be a little constrictive as rolling over requires taking the entire bag with you. However, their tapered design means they can be compacted and are on the lighter side.
For those who don't enjoy snoozing in a cocoon, a rectangular bag is considerably roomier. However, as they are not form-fitting they may be cool and drafty where there are voids. These are the most traditional sleeping bags and as such are usually quite affordable. They can be zipped to other bags or opened up and used as a blanket. Though for all of their pros, they are not ideal for backpackers because of their bulk.
Barrel-shaped sleeping bags are a happy medium between a rectangular bag and a mummy bag. They are not as tapered as the mummy bag but still minimize voids and include a hood. They are generally warmer and lighter than a rectangular bag and take up less room.
Finally, are double or couple sleeping bags. These are extra large and extra roomy bags designed to accommodate more than one occupant. Depending on how well each person fills out the bag and their sleeping styles, couples bags might not be that warm. Additionally, it is no surprise that these sleeping bags are quite heavy and take up a great deal of space.
In addition to the traditional forms, there are also specialized shapes. One such example is called an elephant's foot sleeping bag. This is a highly specialized bag optimized for ultralight backpackers.
It is a cross between a barrel-shaped bag and a mummy bag with a few special additional features. The sleeping bag is tapered and form-fitting but does not have a hood. This means occupants will want to wear a hat or jacket while they sleep to stay warm. It is also shorter than most average sleeping bags.
The form-fitting design and short length conserve weight and space. Zippers are usually replaced by clasps inside the bag or at most only a ¾ zip. Because they are so lightweight and compressible, elephant's foot sleeping bags are usually only found with minimalist backpackers or mountaineers.
Bags with a more compact shape, such as an elephant foot or mummy bag, are usually the lightest in weight. Mummy style bags are followed by barrel-shaped, rectangular, and finally, couples sleeping bags.
Temperature Ratings and Sleeping Bag Season Types
Sleeping bags come with different temperature ratings, but for the most part, fall into three "seasonal" categories. These are summer, three-season, and winter.
The name may be a little deceiving but summer bags are standard sleeping bags good for most moderate temperatures. Campers who typically camp during the pleasurable months, like late spring, summer, and early fall will be fine with a summer sleeping bag.
They usually are not specialized and won't have a hood or collar. Typically they have a full zip so they can be used blanket style if extra ventilation is needed on a particularly warm night. Summer sleeping bags are generally the most affordable.
Three-season sleeping bags are a step up from summer bags. They can handle temperatures in the thirties and some even in the twenty-degree range. Though they may be too warm in the summer, they are perfect for the fall and spring when chilly nights are prevalent.
These bags likely have a few specialized features such as zipper draft tubes or hoods. Because of this, they are a bit more expensive.
Finally, are winter rated sleeping bags. These bags are highly specialized and suited to arctic conditions where the temperature falls below twenty degrees. They almost always have draft tubes, collars, hoods, and down insulation with high fill power.
Temperature ratings are a more specific form of the above sleeping bag categories. Though manufacturers are trending towards a standardized rating system, not all sleeping bag producers use the same methods to rate their bags. Therefore, sleeping bag temperature ratings will vary and may not always be entirely accurate.
The temperature rating of the bag is the lowest temperature the bag can and should be used. Beyond this, there may also be a scale with a lower limit, an upper limit, and a comfort zone.
The lower limit is the coolest temperature at which someone (usually a man) can reasonably sleeping in the bag. The upper limit is the warmest temperature though you may start to feel steamy. The comfort zone is the temperature at which the average woman can sleep comfortably and many times also the optimal temperature for sleeping in the bag.
It is important to note that these ratings are assessed and given with the use of a heat-sensing mannequin. Therefore, real humans may have different experiences. Additionally, the clothing and accessories you wear may affect the temperature rating.
Summer bags tend to be lighter in weight and polar bags heavier. However, this is not always true. Especially if you have a highly specialized bag with extreme down fill power.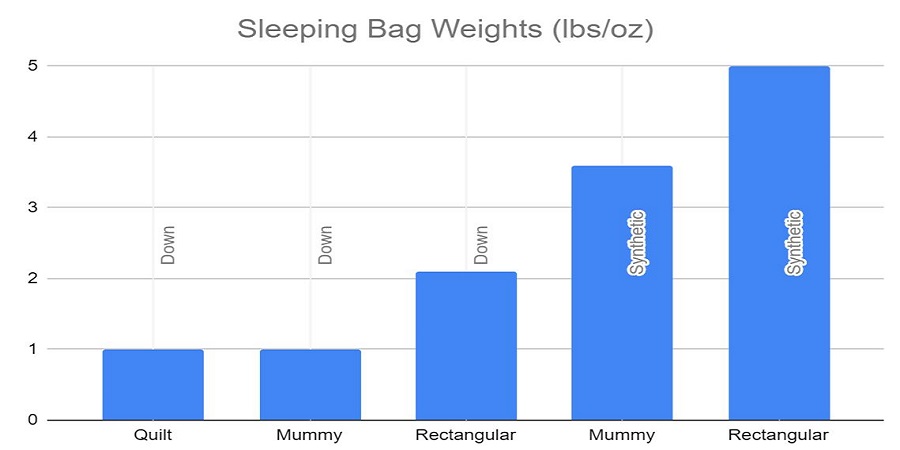 The Two Types of Sleeping Bag Fill
Sleeping bags primarily come with two different types of fill. Each one has its advantages and disadvantages. Similarly, each one can affect the overall weight and size of the bag.
Sleeping bags commonly use one of two types of insulation, either a synthetic fill or a down fill.
Down is a naturally occurring product found under the feathers of birds, notably geese, and is referred to as nature's insulator. Because it is sourced from animals it is unsurprisingly extremely durable and very compressible, yet not heavy. Humans, like waterfowl, rely on down for its excellent insulative properties.
However, the down fill has two distinct downsides.
On geese, their insulative down is protected by a top layer of feathers. Down notoriously does not stand up to water well, therefore the top layer of feathers sheds water to maintain the animal's insulative barrier.
Sleeping bags filled with down benefit from a water-resistant shell. Without this protective waterproof coating, the down fill in your sleeping bag will become saturated if it gets wet. A soaked sleeping bag is a poor insulator.
The other drawback is the price of down can be quite expensive. However, down-filled sleeping bags make excellent backpacking sleeping bags.
This is because they can be stuffed down into a very small size and are lightweight. Down is lighter than synthetic fill and more compressible. Down's weight and warming properties are dependent on the sleeping bags fill power.
Those with higher fill powers, 800+ fill, will insulate better and be less heavy. This is because fill power measures the loft, or fluffiness if you will, of the down feathers. The more loft the more air trapped between feathers and in turn better insulation; also less weight.
Any sleeping bag that doesn't use down fill is usually full of synthetic fill. Synthetic is usually a mix of fibers created to mirror the properties of down.
Synthetic fill is man-made and thus can be treated to be water-resistant. The treatments allow it to remain warm even when wet. Hydrophobic down is treated to be water-resistant but still is not as insulative as wet synthetic. Synthetic filled bags are generally more budget-friendly than down.
However, synthetic filled bags are typically heavier and not as compressible. Most minimalist backpacking bags or mountaineering bags are not filled with synthetic for these reasons. You can always buy a stuff sack to try to compress your sleeping bag further, but synthetic sleeping bags will still remain larger than down-filled.
Traditional vs. Specialized Sleeping Bags
Lightweight sleeping bags are usually under three pounds, ultralight sleeping bags are slightly over one pound. These bags provide adequate warmth but still are easy to transport and highly compact when stuffed into a sack.
One example is the Western Mountaineering Ultralight Bag. It weighs only one pound and thirteen ounces but its warmth rating is twenty degrees Fahrenheit. However, as with most specialized gear, this sleeping bag is not cheap, costing around $485.
Quilt sleeping bags are another type of specialized super light bag. These bags are typically rated for around thirty degrees but weigh only around one pound or even less. Quilts are roomier than a mummy bag and more closely resemble a standard blanket.
The sides can be clasped from the inside as they typically do not have zippers. They are generally filled with down and are ideal for campers looking for a super lightweight option.
One example of a quilt sleeping bag is the Flicker 20 UL Quilt. This sleeping bag weighs one pound ten ounces but with 950+ down fill power and a rating of twenty degrees Fahrenheit you are sure to stay warm.
Considerations When Looking For a Light Sleeping Bag
You want your sleeping bag to be light but the weight should not compromise its warming and insulative properties. Sleeping bags with a high down fill power will still be able to compress nicely and remain lightweight without leaving you cold at night.
Another consideration is the sleeping bag's shape. Quilts are relatively new on the market but are some of the most lightweight. They are roomy and not as snug as a mummy bag, but you have to know how to use the open sides properly so that you don't freeze.
Mummy bags, elephant's foot, and barrel-shaped bags are more form-fitting and tend to be warmer. However, they are restrictive and are not comfortable for those who like to move around when they sleep. On the other hand, they are lighter and very compressible.
Zippers are another concern when it comes to ultralight bags. They can snag, which is annoying, but they also add weight. The zipper itself adds weight and so does the extra stitching required to attach the zipper.
Some bags are zipperless and have open sides. Others use a clasp system or even magnets.
Draft tubes are an extra layer of insulation surrounding the zipper on some sleeping bags. They help protect air escaping and entering through the zipper teeth. They can add a small amount of weight.
How to Compress Your Sleeping Bag
You don't always have to use a stuff sack, though it can be very helpful. Stuffing your sleeping bag with a strategy instead of haphazardly will help it to take the most compact shape for carrying when backpacking.
One option is to stuff it foot end first, or by the tail. This is a better method than headfirst because the air has an escape method it won't get trapped in the foot box. Shoving it in foot first will naturally expel the air as you stuff and won't leave you with a ballooned foot box.
Another good strategy is to turn the sleeping bag inside out. It isn't necessary for all sleeping bags but is important for those with a waterproof or wind-resistant shell. Like the foot box, this protective outer layer can trap air.
Turning the sleeping bag inside out so the air-trapping layer is inside makes stuffing easier and will give you a more compact shape.
The final method is to use a compression stuff sack. Regular stuff sacks involve you cramming your bag into another barely big enough sack. Compression stuff sacks have straps that allow the sack to be tightened into a smaller shape once the sleeping bag is stuffed.
Even if you have a light sleeping bag, if it is not stuffed properly it will make it difficult to backpack.
Should Weight Be a Concern?
As you can see, a variety of factors can affect a sleeping bag's weight. The two most important variables when selecting a sleeping bag for backpacking are its temperature rating and weight. If weight is not a concern, such as when you are car camping, select a bag based on its temperature rating and comfort.
More sleeping bag articles you will love
Are Down Sleeping Bags Better than Synthetic?
Backing Packing Sleeping Bag ( What's A Good Weight and Choosing )
How To Keep Your Sleeping Bag Dry When Camping or Hiking
How Can I Insulate My Sleeping Bag ( 9 Methods That Work )