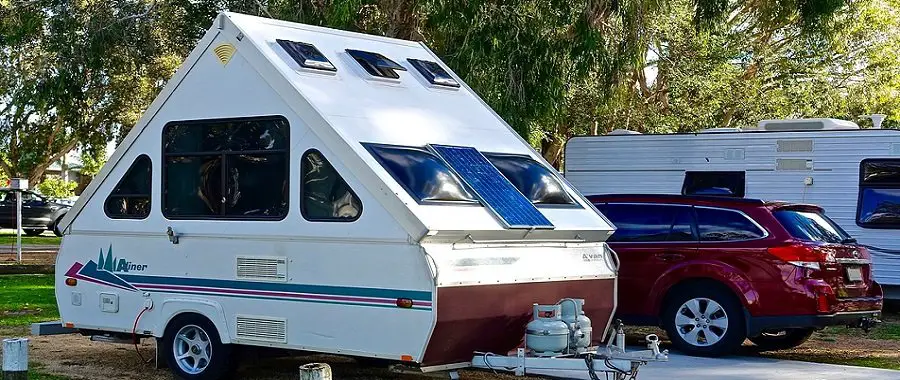 Pop-up campers are a great way to camp if you are looking for a near-authentic

camping experience. You can still use the campsite for pretty much everything you would if you were just tent camping, but you still have modern conveniences if you want to use them.
So, let's say you are sold—the next step is the price: how much does a pop-up camper cost?
A new model pop-up camper will cost around $9,000 on the low end and can cost upwards of $20,000 for a large model with amenities like a shower and toilet. A used model pop-up trailer will cost around $3,000 for an older basic model and can go upwards of $15,000 for a high-end model with all amenities, like a shower and bathroom.
Of course, you may be able to find some below or above these prices, but these are just average prices, and anything below or above may be rare.
These prices are pretty general. If you search hard enough, you will probably be able to find cheaper models or more expensive models, but you have to look at why the campers cost that much.
The price depends on a lot of different things: the brand name, the specific model and floorplan, the year it was made, whether the camper is new or used, and what different amenities the camper offers.
Besides brand, camper prices seem to be divided most based on whether they are used or new. So, in this article, there will be sections detailing a couple different tried and true brands along with their prices for new or used campers.
Clickable Table Of Contents
What do Pop-Up Campers Even Offer for the price?
Understandably, you want to know what you are getting into and why the camper costs what it does. So, here is what you can expect from a pop-up camper, which will help you understand the broad price range.
A pop-up camper can hold one to six people, which makes it perfect for all sorts of families. Depending on how you arrange the interior, there can actually be a lot of space.
A pop-up camper honestly looks like a large box attached to a person's SUV or truck. But when you stop to camp, true to its name, it pops open to reveal a canvas tent-like covering, or a hard wall, with a taller ceiling in the center, and sometimes pull outs on the sides.
On the inside, there can be queen-sized beds, full size, or twin size, and sometimes, if you are lucky, a king-sized bed. It just depends on the camper regarding those specifics. In the center, you will usually find a kitchenette and dining space.
In the most basic pop-up camper, the kitchenette will be equipped with a mini-fridge, stovetop, and sink, as well as some cabinetry. The sides will be lined with benches that also double as more storage, and sometimes there will be a table that can be pulled down from the wall when you need it. Other times, the table will just be installed, which usually means the bed is set up over it when you need it.
In some of the more expensive models, a bathroom is included. Again, this is pretty rare. You will have a couple of bathroom options: either a wet bathroom, where the toilet and shower are in the same space; a dry bathroom, where the toilet and shower are separate; or just a toilet, which can be covered by a bench for more storage.
In some other more expensive models, the kitchen will be more fully equipped, perhaps even including an oven or microwave.
A/C and heat are usually not included in pop-up campers, but you can find creative solutions for this. You can bring a generator, or you can use lanterns and flashlights. There are solutions for if you don't have a bathroom as well, as you can just use a campground's bathroom.
So, if you are going with the most basic model of pop-up camper, you are looking at the $9,000 price range for new, or $3,000 for used. If you get all the bells and whistles—fuller kitchen, bathroom, maybe even A/C—you are looking at about $10,000 at the cheaper end for new.
Some models even get to about $28,000, and I will list them and give information on why it is that much. Must be a pretty great camper, right? Keep reading to find out!
How Many Types of Pop-Up Campers Are There?
Even though the most iconic type of pop-up camper is the soft-sided camper, there are actually four different campers to be aware of. Since minimalism is the trend in camping these days, a lot of small campers have been introduced to the market in recent years!
Tent trailers—these are the standard canvas campers where the sides pop out and turn into beds.
High-wall campers—similar to standard tent trailers, these have hard tops and higher walls. Since they have hard sides, that means they are made of sturdier material, so they are harder to tow.
A-Frames—the trailer lays flat, but when you lift up the sides, they come together in an "A" shape, giving you more head room in the middle than the sides.
Teardrop campers—while this type does not always "pop" up, it is the smallest form of trailer, easily towed, and only fits about two adults.
There are pros and cons for each option. You might prefer a hard wall to canvas tent cover; you might like the space a tent trailer provides compared to an A-Frame, and so on.
The best way to understand which type of pop-up trailer is best for you is to rent each option and give them a try! You will be able to tell which model works for you, your family, and how you specifically camp.
As for prices, it really just depends on the same features I mentioned earlier. There isn't really a way to tell if every teardrop camper will be cheaper than an A-frame, for instance. The prices for each type and model will fluctuate no matter what.
So, let's get into the numbers. Below I will list the prices of different types of pop-up campers in new and used sections so that you can know the difference. I will list the prices at "starting" so remember that each camper type may actually be higher (and sometimes lower, depending on newer listings) than what I put here.
Let's start with new prices, and what features each model includes:
New Prices for pop-up campers
Jayco Jay Series Sport Camping Trailer—starts at $9,980 for a 2019 model. This is a tent trailer, and since it is a series, there are different floorplan to choose from while still maintaining the same title.
The 8SD model has a twin bed and a full bed, as well as a small kitchenette and dining space. The 10SD is bigger, and has the same specs, except for a queen bed and a twin bed.
The 12SC has a king bed and a queen bed. There is enough room for a sofa, as well as a kitchenette and a dinette. The 12UD has a queen bed, a twin bed, a kitchenette, and two dining spaces. Each model has a carryout stove.
LivinLite QuickSilver Tent Camper—starts at $10,000 for a $9,998 for a 2019 model. This is a tent trailer, and it also has a couple of different floorplans available. Most of the floorplans don't include a kitchenette, hence the name.
The 6.0 model has a bed and a couch. The 8.0 has two flip-out beds, a kitchenette, and a dinette. The 8.1 is similar to the 8.0, but it has bigger beds. And the 10.0 has two queen size beds, a kitchenette, and a large dining space.
Sylvansport Go Camping Trailer—starts at $10,995 for a 2020 model. This tent camper has a unique star gazing windows and is a lot lighter than other models.
The camper is extendable, so you can use the frame for hauling kayaks or bikes or whatever other toys you want to bring. But then when you are ready to camp, you can attach the canvas to the frame. Simple as that.
Since it is so small and works mostly for hauling, there isn't a lot of fancy amenities on the inside. You can expect a tent big enough for about four people, and the canvas extends out so you can have shade and cover at your campsite.
This trailer is basically one step up from camping, but still gives you the mobility and ease of a pop-up camper.
Opus Pop-Up Camper—starts at $28,000 for a 2020 model. This is also a series so that the price may vary depending on the floorplan. You can either get a 2-person model or a 4-person model.
The 2-person model includes a king-size bed, a shower extension, and a good amount of storage. It has an external slide-out kitchen, which includes a stove and sink, and drawers and shelves for storage.
The tent trailer inflates on its own—you just have to make sure the bed is secure. It should inflate under three minutes. It is built for off-roading, so you can feel safe taking this camper for all your wild trips.
The 4-person model has two double beds and a convertible sleeping method, which actually means it could potentially sleep six people. This model also has a slide-out kitchen with a stove, sink, fridge, and storage.
Both models have on-board water. And the 4-person model can inflate in under two minutes. With either option, you are sure to have a good and comfortable time in the backcountry.
Aliner Somerset Trailer—starts at $20,995 for a 2020 model. This tent camper sleeps anywhere from four to six people, and it has a nice, open floor plan.
As for the extras, you can expect an inside stove, speakers, water heater, refrigerator, among other great towing specs. There are two large beds, and plenty of storage. For a tent trailer, this one is a great option.
Aliner Original—starts at $20,500 for a 2020 model. An A-Frame camper, the Aliner can hold up to five adults. It is the smallest camper in its class, weighing in at only 2,000 pounds, easy for towing.
It has a slide-out kitchenette, a standard outside shower, baggage doors, electricity, and it should be small enough to fit in your garage. The kitchen has a sink, fridge, and stove—pretty standard. There is no bathroom besides the pull out outside shower, so keep that in mind moving forward.
Aliner Ascape—starts at $19,995 for a 2020 model. Technically a teardrop camper, this is one of Aliner's smallest campers. Though it is small, Aliner dropped the floors in the interior to give you more headspace, so you can still expect to be quite comfortable.
The Ascape comes with a standard outdoor shower, standard sink, refrigerator, stove, and water heater. It has optional attachments, like solar panels and a flat-screen tv. The bed is about a queen-size, and based on its size, this camper should fit two people comfortably.
Forest River Rockwood—starts at $11,995 for a 2020 model. A hard side series, this model has options with standard walls or high walls if you want the extra head room.
Each model will have the basics—bed, dinette, kitchenette—but the larger floorplans come with a toilet, and two twin size beds that can also turn into a king-size bed. In the biggest version, there is a wet bathroom—toilet and shower.
So, the price will definitely vary for this one. The price I gave is for the most basic model, and you can expect it to climb as you get a more advanced floorplan. This is one of the highest-rated campers though, so it is worth it.
21' Little Guy Max—starts at $29,990 for a 2020 model. A teardrop camper, this is one of the best out there. It has room for a queen-size bed and a wet bathroom in such a tiny space!
And you still have plenty of storage and closet space, as well as a kitchenette. It has space for an entertainment center as well. If you are looking for a small, lightweight camper with all the extras included, look no further.
Used prices pop-up camper prices
Chalet A-Frame LTW—starts at $6,000 for a used model. This camper is hard to come by on third-party selling sites because in its best and most updated form, it is a really great camper.
The LTW has a queen size bed space over the dinette when the dinette is not in use and a small kitchenette. It is small and light and only takes about thirty seconds to set up. Even though it looks small, there is still about 80 inches of head space.
Chalet A Frame XL—starts at $10,995 for a used model. This camper is similar to its lightweight partner in that it is also hard to come by! It's because the XL has a king-size bed over the dinette, as well as a bunk bed on the other side of the camper.
There is room for an optional toilet and shower, a full kitchenette, and plenty of storage. All Chalets (and other hard wall campers) are built to be safe and sturdy. If you are buying used, the Chalet may be the way to go.
Jayco Jay Sport Camping Trailer—you can get a used 2017 model for about $6,000. For all the amenities listed above in the "New Prices" section, that price isn't bad at all.
LivinLite Quicksilver Tent Camper—starts at $3,250 for a used 2010 model.
Sylvansport Go Camping Trailer—starts at $5,500 for a used 2013 model.
Opus Pop-Up Camper—starts at $16,900 for a used 2017 model.
Aliner Somerset Trailer—starts at $18,995 for a used 2019 model. It's not much cheaper than the 2020 model, but since it will look basically the same, might as well save a couple of hundred dollars!
Aliner Original—starts at $3,900 for a used 2009 model.
Aliner Ascape—starts at $13,995 for a used 2018 model.
Forest River Rockwood—starts at $3,999 for a used 2000 model.
21' Little Guy Max—starts at $13,495 for a used 2016 model.
So, What Should You Do?
There are obviously a lot of other campers and styles on the market, but this list should give you a general idea of what prices you will be looking at for pop-up campers. The campers listed are highly rated and stay in the middle price range.
While researching, you may find prices better or worse than those I listed. That is because the market changes daily, and there are a lot of sites to go through in order to find the best price out there.
A lot of finding the perfect camper means following your gut. I've given you the base information here. It will be up to you to find the perfect camper for your lifestyle and for your car! Remember that you will have to tow these campers, so pay close attention to the specs.
Since there are so many campers to choose from, remember you can always rent each option to see what works best for your lifestyle. It is always better to test out campers rather than buy right away. You never know until you try.
More articles you will love.
Here Is Why Tent Trailers Might Be Worth It For You.
How much to rent an RV? ( Day, week and monthly rates )
What is the average price for RV camping?
Do Popup Campers Have Bathrooms? ( We have a list )