Are there any other sites/techniques that you can use for pricing campers?
If you are thinking about selling your camper, you likely want to get an idea of its worth and similar RV prices. This means taking into account not only its make and model but also its age, mileage, any upgrades, and any issues it may have. If you were selling your automobile finding out its estimated value would be simple, you could use one of the numerous online pricing calculators. But is there such a thing for campers?
Unfortunately, Kelley Blue Book only publishes values for automobiles, motorcycles, watercraft, and snowmobiles these days. However, NADA Guides is a popular pricing service for campers and RVs. In addition, many motorhome and RV websites, such as RVShare and RVTrader can provide a similar service.
Though using the guides may be very helpful, they can sometimes be misleading. Therefore, we hope we can provide you with the tools and tricks necessary in addition to commercial services to make pricing your camper as painless as possible.
Clickable Table Of Contents
NADA RV Guide
NADA stands for the National Automobile Dealers Association. They have many assessments, analysis, and pricing tools available for both businesses and consumers. NADA publishes pricing guides for much more than RV prices, they also price automobiles, classic cars, motorcycles, boats, and manufactured homes.
They are not affiliated with Kelley Blue Book but their tools are the most similar in nature. So if you are looking for a comparable guide or experience, NADA would be the way to go.
Their pricing tool is simple to use. You can either enter your RVs exact manufacturer and make or choose by type. Types include travel trailers and fifth wheels, motor homes, camping trailers, or truck campers. Once you have narrowed down your specific camper, you are then asked to enter your zip code.
You can find the NADA guide here.
Why Does Zipcode Affect Resale Price?
Pausing for a moment, you may wonder why where you live affects the price, after all, all the campers of your make and model were identical when coming off the production line.
Often your geographic location plays a role because of the weather. Snow, ice, and salt used to de-ice the roads can have a big impact on the condition of your camper. Cold weather isn't the only harsh element though.
Sun and arid conditions can strip paint and fade awnings. Because of the weather, your rig will have endured, the price fluctuates. Overall, campers from the Midwest and Northeast tend to sell for a lower price than those from the South or Southwest. The arid climate is considered less harsh than frigid winters and will likely have less of an effect on your camper.
The region where you live can also factor into price because of the likelihood of demand for a camper, though less so than the weather. People in metropolises are less likely to want a camper than say someone in a suburban or rural portion of Colorado or Michigan. This is known as the price elasticity of household demand.
Okay back to the NADA tool.
Once you enter your zipcode you can choose base pricings or options. There are options for nearly everything including:
● Air conditioning and heating
● Appliances
● Engine and suspension systems
● Entertainment
● Generators
● Jacks and leveling
● Miscellaneous equipment
● Awning
● Cabinetry
● Wheels
● Solar
● Screen rooms
● Electrical
● Windows
● Slideouts and Tip outs
This gives you an extremely customizable experience so that the price reflected is truly tailored to your camper. After you have selected all the applicable options you can view pricing.
Price recommendations are displayed in a few different ways. First, there is the suggested list price. This price takes into account your year, make, model, any added options, your geographic location, and similar listings in your area.
You can also find the low retail price and the average retail price. The low retail price reflects extensive wear and tear on your camper. At this price, your rig still runs (and safely) but will need some mechanical and cosmetic work. Still, this should not be seen as a trade-in value.
The average retail value is for an average condition RV. Most of the RV is in good but used condition with no glaring defects. The interior and exterior should be clean and in good working condition. The mileage should also be in an expected range based on the model year.

Speaking of trade-in value…
Dealerships use NADA too, after all, it is the National Automobile Dealers Association. However, they subscribe to a different version and will, therefore, see a different price, sometimes known as a Blackbook price. The price they are given takes into account that they still need to make a profit.
When they are looking at used travel trailers they first take into account the wholesale number, or how much the vehicle is ultimately worth. Only dealerships and banks typically have access to this number. And this is not how much it may be worth to you as it definitely doesn't include any sentimental value.
They will then look at a number lower than the wholesale number or value called the average wholesale price. This is what they could sell a rig for with a buffer. Their buffer could be a 10-25% profit margin for themselves.
The numbers change frequently, even monthly, due to the aging of rigs and local real-time prices of RVs. However, you can usually bank on the trade-in number presented to you being lower than the NADA low retail price listing. Unless you are trading up (and sometimes even then) you can expect to get much less for your camper if you trade it in rather than sell it privately.
In order to sell it privately, you will need a site like NADA. In that case, back to the NADA tabs.
The specifications tab will list your camper specs so that you can reference that they are correct. The special notes tab lists any caveats such as if your year was a limited edition or included a special package.
Finally, NADA has a partnership with select companies. This can prove useful when selling your camper because you can often view local used campers for sale. Seeing what others are listed for can provide you with a better idea of how yours compares.
Below this information, there are various links to dealers, a list of trucks and SUVs built for hauling, and an option to reveal dealer pricing.
NADA can be beneficial and they are the most like Kelley Blue Book if that is what you are looking for, but they are not the only tool available.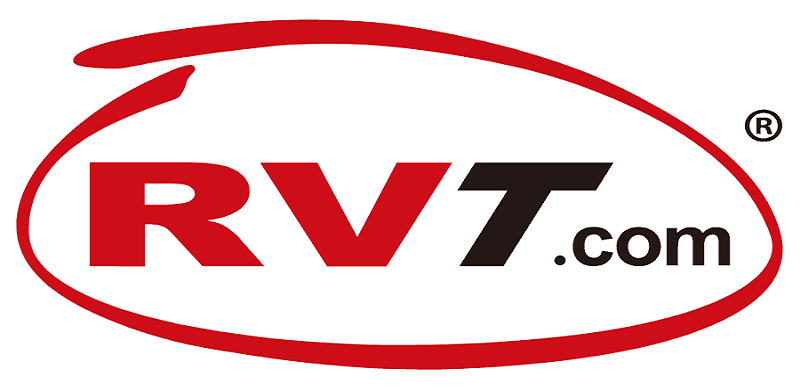 Other Pricing Guides and Value Indicators
RVTrader has an RV price checker. They largely rely on their listings to generate a value for your used camper trailer. In a process similar to NADA, you must choose your make, year, model, type, and location.
From this information, RVTrader will provide you with the highest, lowest, and average price. Additionally, you can select the "run this search" option to see actual listings of all comparable campers.
Using other RV or camper sales websites can be a useful tool to gauge the average price of what similar rigs are selling for. RVShare is another popular website that sells camper trailers.
You will notice that NADA still allows you to tailor your search more so than other price checkers or websites and this should give you a more specific number.
What to Consider When Selling a Used Camper
Depreciation
Much like a car depreciates as soon as you drive it off the lot, campers also depreciate. They continue to decrease in value the longer you own them and the more miles you put on. The price you sell your rig for likely won't be anywhere near to the price you paid for it new.
On the other hand, used RVs can be purchased for much less than new ones which is appealing to buyers. There are a few things you can do to increase the value of your camper, like taking care of it but sadly it will not increase the price by much. Some brands tend to maintain their value over time, like Airstreams, but most RVs depreciate.
Most campers, regardless of their size (Class A, Class C, etc) lose about twenty percent of their value within the first year of being driven off the lot. At five years they have lost about thirty-six percent. At ten years they lose forty-five to fifty percent and around eighty percent at twenty years.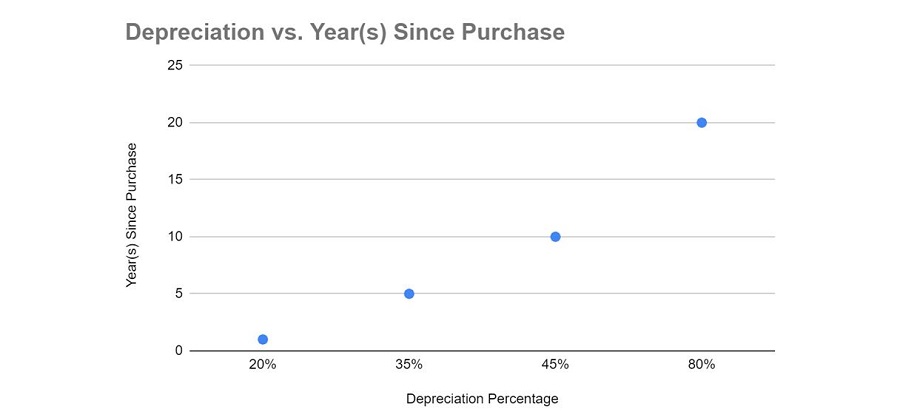 Travel trailers seem to do a little better and retain their value more steadily. Still, you should never expect to sell your camper for what you bought it for.
Chances are that if you are reading this you are wanting to sell your camper. Therefore, it is then probable to think that you want to purchase a new camper. Keep these depreciation values in mind.
Just like the dealership will provide you with a trade-in number that leaves them with a buffer they will also sell you a camper for a higher cost than it is worth. This ensures that they will make a profit on the sale.
So word to the wise, don't get ripped off. You don't need to pay a high price if you do your research and are prepared to negotiate with the dealership or the private seller. Research is essential for selling a used camper, doing a trade-in deal, and purchasing a new or used camper.
Maintenance Won't Do Much
It's true that you want to maintain the condition of your RV but unfortunately, it likely won't make too much of a dent in the resale price. This is true unless you have a classic, like an Airstream, that has been restored to its former glory.
Still, you want to keep your rig well maintained and modernized.
Time Your Sale Correctly
The season in which you are trying to sell your RV could affect its ability to sell and the price you sell it for. In most parts of the country, camper season tends to be in the summer months, regardless of the weather. When people are looking forward to using a camper or RV in the summer months prices can increase.
This is why it is usually better (and easier) to sell your camper in the spring. However, the fall can be a difficult time to sell. The season wraps up in the fall and most people won't want to purchase an RV and have to store it over the winter.
To get the best amount for your used camper, consider listing in the spring or summer.
Techniques for Selling a Used Camper
Keep it well maintained. Good condition may not be able to increase the price much but it will keep the value from plummeting. This means performing regular maintenance and cleanings. In addition, you should make sure it is stored properly.
Be aware of cosmetic issues. The cabinetry, upholstery, and appliances shouldn't show signs of significant wear and tear. You also may want to consider updating them if necessary but don't spend too much money as this could take away from your sales profits.
Buyers usually want to see a reasonably attractive and well-maintained interior and exterior. Dents or dings on the outside, fading awnings, even extreme dirt can be a turn-off.
When you walk through your camper do so with a mind to sell it. Be sure to take note of all tears, dents, water damage, mold growth, and any other damages. Buyers will notice these things and see them as detracting from the value of the camper.
Making sure that your camper is safe is vital. All mechanics should be in working order. If you have an RV the oil should have been changed regularly, the tires inflated, and other engine maintenance performed.
Furthermore, check-in on the air conditioning and heating units in addition to the generator. All the systems, electrical and mechanical, should perform satisfactorily.
Before listing your camper, clean it inside and out. Dirtiness and dinginess do not make a good impression.
Staging can go a long way. You want buyers to get that special feeling from your camper, much like when they purchase a home. It should look more than presentable. Try to make it look turnkey by cleaning it, decluttering it, and sprucing up the interior.
Don't forget to make the beds and organize the cupboards!
Though they may not increase the listing price by the thousands, sellers can typically ask more for their RV if they made upgrades. These can be new appliances, solar panels, television and entertainment systems, and even tankless water heaters. List these items prominently in your posting.
Finally, determine who you are attempting to sell your camper to. Do you want to sell it to a dealership, sell it privately, or use an online website?
How quickly you hope to sell it can play a role here. If you want to sell it immediately then a dealership may be your best bet, though you can expect a lower price. Selling it privately can net you a higher profit but it may take longer. A website is somewhere in between, it can quickly reach a large audience but it is probable that the website will take a cut of the profits.
What is My Camper Worth?
Beginning with NADA or other price checkers input your camper. This will give you the price ranges at which your camper can be listed. Then, check other local listings using popular websites. Your camper will need to be priced reasonably for your area.
If you want to trade-in your camper you will need to visit a dealership. You will still need to do your research and have a number in mind as this will be used for negotiation. Remember, the dealership will try to give you a lower number to increase their profit margin.
If you desire to sell your camper privately then first take into account your audience and the season. You may want to list it on a website to reach a larger number of people rather than sticking a for sale sign in the window. Also, if the season is not ideal you might want to wait to post your listing.
Before you actually list your rig for sale walk through it with the eyes of a buyer. Deep clean it, update it if necessary, and stage it well. Your buyers will probably inspect it quite thoroughly.
Once you have readied it for sale and done your research, formulate your own number. Online guides can provide you with a range of numbers because they are just that, a guide that can assist you in determining your campers worth. But, you know the history of your camper and any upgrades performed, so use this knowledge to craft an ideal price.
Then you are ready to list your camper!
More Articles You Will love.
What Does An Airstream Cost? And Why Do They Cost So Much?
Outdoorsy VS Rvshare Which Is Better For Renters – Complete Breakdown
How much to rent an RV? ( Day, week and monthly rates )
RV Storage Average Cost ( Motor-home and Travel Trailer in U.S. )