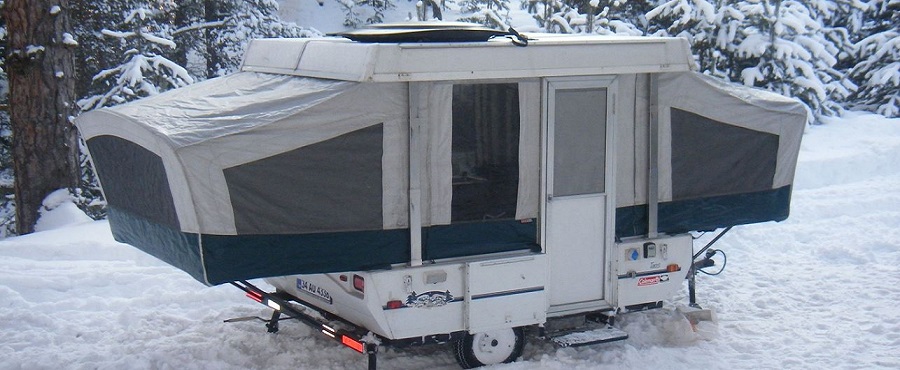 Pop-up trailers provide an excellent alternative to RVs when it comes to camping. They are easily portable so you can park just about anywhere and set up camp in a flash, and you get most of the benefits an RV provides at a lower cost! If you already have one, you know that to be true.
Despite all of the benefits of camping in a pop-up trailer, there is one drawback; you do not get as much insulation from the cold as you would in an RV. Because of this, some people are reluctant to camp out in one during the winter. However, it is entirely possible to do so and be comfortable! You just need to be prepared and take measures to keep warm.
Today, we're going to help you prepare for a cozy winter getaway without emptying your wallet; by the end, you will be ready to make some memories you'll cherish forever!
Clickable Table Of Contents
Before You Leave
Before you leave, you need to make a basic plan in order to stay safe and warm while the cold winds blow and the snowfalls. Planning your trip isn't as easy as picking a destination and driving away. Take care of the small details first.
In warmer months, camping in a pop-up trailer is easy. You can park by the ocean one weekend and be in the mountains the next. Moving around constantly is part of the fun! Doing this during the winter may not be the wisest idea, though.
Winter weather can be dangerous, so it's best to be in a spot nearer to civilization and to be able to reach people if you need assistance. When no one knows where you are, the chances of getting help are drastically reduced. After all, it is harder to get to lost campers in the middle of a snowstorm or on icy roads.
Keep track of weather patterns
What you are going to need to properly fortify your pop-up trailer for the camping trip depends on what the weather's like in your area. Always keep track of the weather forecast and keep yourself updated on any changes in the days before you hit the road.
Doing this helps especially when traveling to a new region; you may be familiar with the weather patterns near your home, but you likely might miss something important if you are traveling far away with unpredictable snowstorms.
Let everyone know where you will be
Winter is often unpredictable and quite possibly dangerous if you don't know how to prepare for the worst scenario. In that case, you should let everyone important in your life know where you will be parking your pop-up trailer. If conditions worsen and you can't leave, someone will know where to find you and can notify emergency services.
Pack according to the season
Every season calls for a different set of clothing. At home, you have your pick of anything you need. While camping, you have a limited amount of things that you can bring. When you go camping in the winter, you should layer up. For more information about how you should dress while on your adventure when the weather gets cold, click on this link.
Protecting Your Pop-Up Camper from the Cold
Now that you have your basic plan fleshed out, you need to be able to insulate your pop-up trailer from freezing temperatures. Most of the trailers that you can buy do not have built-in heaters, so you need to get crafty when it comes to keeping warm. Let's talk about what you can do to make your pop-up a cozy paradise.
Make sure that there are no holes or rips in the camper's walls
The walls of a pop-up camper are often made of canvas. This is what allows them to be lighter and collapsible, unlike an RV. Because of this, you might notice that there may be a rip in the fabric somewhere if you have had yours for a while. Inspect your trailer closely and patch up any holes and tears you might find. If you do not take this measure, you can't hold the heat in.
Fortify your windows and the door
Warm air often leaks out most through the doors and windows of a pop-up trailer. Most experienced campers recommend covering the windows with plastic sheeting and installing extra insulation around the door. You can do this with Reflectix inserts! If you are camping out in extremely cold weather, you may also use Reflectix on the interior walls. Be careful, though. Don't rip the fabric!
For more on keeping your pop-up insulated, Check out this article.
5 Great Ways To Insulate a Pop-Up Camper ( Against Heat or Cold )
Warming the Inside of a Pop-Up Trailer
You have now protected the exterior of the trailer from cold weather, but that is only the first half of what you need to do to keep warm inside. Staying warm requires a few extra supplies that are sure to come in handy, especially when they are used together!
If you don't have a built-in heater in your pop-up trailer, don't worry – there is another easy way to heat up your space! In decades past, people had to keep warm with only blankets or brave the cold to sit around a campfire. With the technology boom of today, staying warm is as simple as pushing a button. Portable space heaters with automatic shut-off features are ideal for the trip that you are going on. Take a look at some of these examples:
The Mr. Heater F232000 MH9BX Buddy. This heater warms you up without posing a danger to anyone or anything in the trailer! The auto shut-off is activated when it is tipped over, if the pilot light goes out, or if it detects low oxygen levels. For more pricing information, click on this link.
Smaller pop-up trailers are the perfect size for the Brightown Ceramic Space Heater. It is compact but really cranks out the heat just as well as any other on the market. For more pricing information, click on this link.
The simplest and most affordable way to stay warm in your trailer is to stay bundled in a soft, comfy blanket. There are several materials and types of blankets to choose from! Your best bets, though, are down comforters (or down alternative), heated blankets, and flannel or fleece. Need some recommendations for safe electric blankets? We've got them!
Be sure to check out this great article on heating your pop-up camper.
Do Pop-Up Campers Have Heaters? ( alternatives and examples )
Staying Safe While Camping During Winter
Camping in a pop-up trailer is a ton of fun when you are warm, cozy, and dry all through the night. Your problems don't stop when you get toasty, though. There are just a couple more things to do for your own safety, and then you can finally put your mind at ease and enjoy your vacation!
Moist air creates mold. This is a well-known fact. Many campers don't think about it while on their travels, though. Who could blame them? Mold would be the last thing on my mind, too. However, you need to check every morning for any mold inside. A great way to avoid the issue altogether is to invest in a dehumidifier for the trip. Godownsize.com has two fabulous recommendations for you to check out!
Gas tends to evaporate from the tank in your vehicle in cold weather. Because of this, you should always keep it over halfway full. This ensures that you don't get stuck in the middle of anywhere with no way to get back home!
Going on a winter adventure in a pop-up trailer is easier than it seems! All you have to do is be prepared for the cold and avoid potential disasters by investing in safety with all the products you bring along for the trip. Now you can go out and have a great time without worrying that you'll turn into an icicle. Happy trails!
More articles you will love.
Heat Strips In An RV ( What is it, How does it work, Is it worth it )
Keeping Warm In A Tent ( What really works )