Campgrounds can actually be quite expansive. They often have facilities, such as restrooms and laundromats, recreational buildings, and of course numerous campsites. This means that you may be doing a lot of walking in order to get from place to place. Walking is an excellent physical activity, but if you have limitations, you might find yourself relegated to your campsite most of the time.
Golf carts can be a great way to quickly and easily get around your campground. However, not all campgrounds allow golf carts. Besides, each campground may have various rules concerning what types of golf carts they allow and their use.
It is wise to check your specific campground policies before bringing your golf cart. If you can bring your cart, be sure that you have the correct type and know how to safely use it.
So, do campgrounds allow golf carts?
Some campgrounds do allow golf carts. With that said, at some campgrounds, you can bring your own and at others, you will have to rent one from the campground itself. There are some campgrounds that do not allow golf carts. You will need to check with the campground that you plan on visiting to find their specific rules.
We have listed some campgrounds that allow golf carts as well as some very helpful information throughout this article.
Clickable Table Of Contents
Different Types of Golf Carts
Sure, you likely have your vehicle at your campsite, but loading up the car to get around isn't always the most practical. Not to mention the gas you will be using just for a short trip. Golf carts are much simpler and more fun!
There are two types of ride on golf carts, gasoline, and electric. Both have their advantages and disadvantages. Campgrounds might allow either type or just one.
Gasoline Fueled Golf Carts
Gasoline-powered golf carts are very similar to vehicles. They have an engine and it runs on gas. Granted, the engine is much smaller.
It runs a little differently too. Aside from new fuel-efficient models, most car engines run continuously. When you put the key in the ignition and start the car, the engine will burn gas until you turn the car off.
Golf cart engines only run when you press the accelerator pedal. When you remove your foot from the gas pedal the engine shuts off.
They are designed this way to produce fewer emissions, save gas, and reduce noise. All of these are appreciated not only on the golf course but in the campground as well.
These golf carts usually cost around $7000 and tend to be a bit more robust than electric golf carts. They have up to three times the horsepower of an electric golf cart and often include suspension and all-terrain tires.
Gas fueled golf carts can go further than electric golf carts can on one charge. Therefore, you will never have to worry about your golf cart dying a long way off from your campsite.
Those thinking about using a gas-powered golf cart should know though that they can be a bit noisy and cost more in terms of daily fuel than an electric golf cart.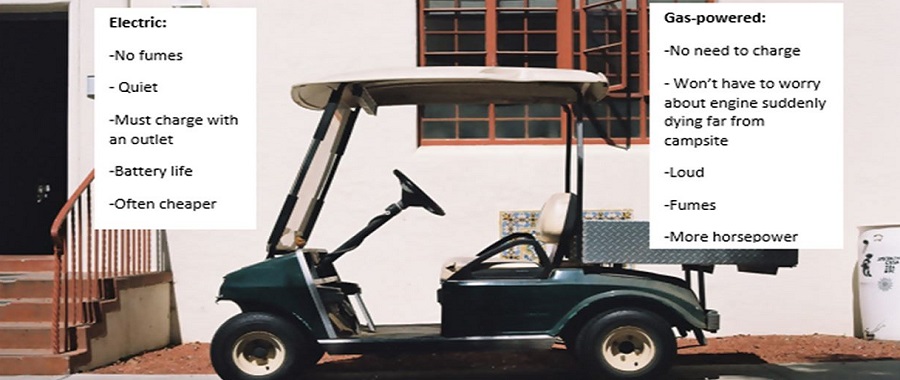 The other type of golf cart on the market are electric golf carts. They generally use batteries to power the engine. A few models may use solar energy harvested from rooftop solar panels, but these aren't too common. They typically cost around $7000 as well but can cost more if you desire more features.
Electric golf cart batteries must be charged. They can be charged by being plugged into an outlet or by using a transportable battery charger. Once fully charged, they can provide you with a few hours of use.
Unfortunately, their batteries have to be replaced after about five years of use. These golf carts produce fewer emissions and are much quieter. Because of this, they are usually preferred by campgrounds.
Campgrounds and Golf Cart Use
Some campgrounds, like Camp Jellystone Parks, have golf carts for rent; others allow you to bring your own golf cart. And still, some prohibit golf cart use.
Out of the campgrounds that do allow golf cart use, gas golf carts may not be allowed. Some general additional policies that are commonly seen are operating the golf cart at 5 mph or less and having a modified exhaust.
Many campers do not appreciate the sound of golf carts. Additionally, they dislike those who operate their carts erratically and at fast speeds.
For this reason, if you are considering taking, buying, or renting a golf cart for campground use, electric golf carts are recommended over gas-powered.
Like Jellystone, Lake Huron Campground in Carsonville, Michigan has golf carts for rent. Their policies are as follows:
A three-day minimum rental period during popular weekends (like 4th of July)
A daily fee (on average $70)
Agreement and signing of their golf cart rules
The driver must be 21 or older with a valid license (limit to 4 drivers per cart rental)
All passengers must have a seat when riding (no dash or lap riding)
The keys cannot be left in the golf cart
No excessive honking of the horn
The golf cart cannot be parked on an incline where it could roll away
No driving while intoxicated
No driving the cart off the campground
If you choose to bring your own golf cart there is a $15 daily fee and you must sign rules of use.
These guidelines are pretty standard for campgrounds as it is their goal to keep everyone safe and satisfied with their camping experience.
One final consideration is insurance. Many rental dealerships will not provide insurance, so you will need your own. Similarly, if you have your own personal golf cart you will need insurance. You can either go through your homeowner's policy or your auto insurance policy.
Most campgrounds likely already have insurance covering any golf cart you rent, you will likely sign in agreement to this in the rental policy.
Regardless of renting or buying, you will need to check the campground rules and regulations. You should always be considerate of other campers when using your golf cart at a campground.
Using a Golf Cart Safely
Operating a golf cart is much like driving a vehicle. With common sense and practice, you should have an enjoyable ride.
Although it can be tempting to pile on as many people as possible, you should only use the seats provided on the cart. Hanging on to the sides, sitting on the dash, or someone's lap is not safe. Along these same lines, you should always wear your seatbelt and keep all limbs inside the cart.
Distracted driving, whether in a car, on a bike, or in a golf cart, is never safe. Likewise, you should never operate the cart while intoxicated.
Most campgrounds have speed limits, typically 5 mph or less. Because there is a large number of campers (especially children) walking around campgrounds, you should go slow and proceed cautiously.
Golf carts come equipped with various features. Even those with turn signals can be difficult for others to see. Therefore, use your arms or hands to indicate which direction you are turning.
As indicated in the Lake Huron Campground rules, you should never leave the cart parked on an incline as it could roll away. If you do have to leave it on a hill, use the parking brake. When you are done with the golf cart take the keys with you so that no one else has access.
In addition to these general safety tips, follow any rules outlined by your specific campground.
Some Examples of Campgrounds That Allow Golf Carts
Beachcomber Camping Resort, Cape May, NJ

You can rent a golf cart if you are 18 years of age or older with a valid license
Personal carts permitted but electric-only; no gas-powered or street legal carts.

Big Bear Lake Camplands, Bruceton Mills, WV

Both types (gas and electric) of golf carts permitted with proof of insurance.

Ocean Lakes Family Campground, Myrtle Beach, SC

They have extensive rules. Additionally, only electric golf carts are permitted.

Spirit of the Suwanee Music Park, Live Oak, FL

Both gas and electric carts are allowed (with standardized stock engines and mufflers)

Disney's Fort Wilderness Resort and Campground, Orlando, FL

They have quite a few rules, but both gas and electric carts are allowed
To Use or Not to Use Your Golf Cart
Golf carts certainly can come in handy if you are staying at a massive campground, or have physical limitations. Many people, especially their children, enjoy cruising around on their carts.
However, there is a large number of campers who do not appreciate golf cart use at campgrounds. They tend to enjoy the peaceful sounds of nature and do not want to be disturbed by noisy carts and their smelly fumes.
Additionally, they would much prefer walking or riding their bikes in order to get to their destination. Golf carts can, on occasion, be driven too fast or recklessly and it can be a nuisance to have to dart out of the way. This is even truer if you have young children walking with you.
Finally, other campers note that teens can have a pension for being loud, driving erratically, or generally disobeying the golf cart rules. For the various reasons above, some campers prefer to stay at campgrounds that prohibit golf carts entirely.
Everyone has different opinions and preferences. There is nothing wrong with wanting to use your golf cart at a campground as it can be a fun experience and can make travel easier. Just be sure to abide by any rules and treat your fellow campers with respect.
More articles you will love.
RV, Hiking And Tent Camping Gear List and Prices
How To Stop Smoke From a Campfire? ( Instructions, Tips and Tricks )
Campground Hosts (what are they paid, benefits and responsibilities)