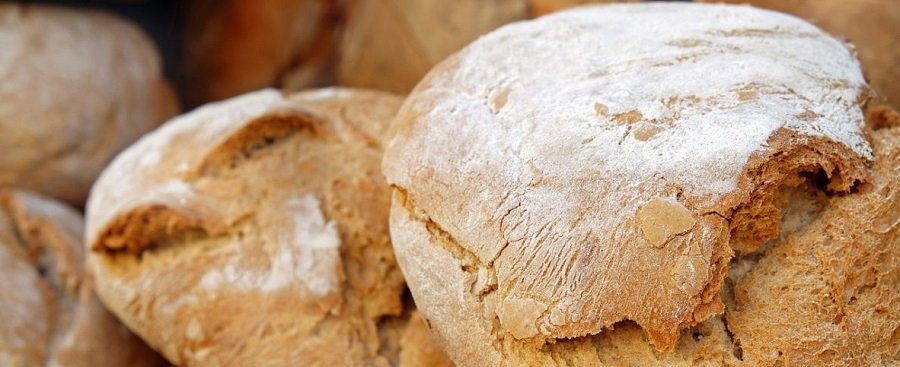 Making bread at a campsite can be challenging, but the result is tremendous. You may not be baking bread that requires 24 hours to rise, but fresh-baked bread of any type will win you points and make your camping trip awesome.  There are many different ways to make bread on a camp trip, and most of them are fast, easy, and family-approved.
What breads can I make while on a camping trip?
Many different types of bread work well when you are camping. Some include bread in a can, campfire bread, camping frybread, bannock bread, bread baked in a dutch oven, bead on a stick, or flatbread. Use your imagination. It takes flour, water, a bit of seasoning and time.  Freshly baked bread on a campout will go far to feed and wow your campmates.
Don't just go out and use store-bought bread on your camping trip. Make fresh bread in many different ways to be unique and bring a great dining adventure to your camp. Bread baked over a campfire tastes so much fresher than regular bread. It's not really that complicated to make. Get your family involved, and you will discover an entirely new entertainment platform for your next camping trip.
When you finish this article be sure to check out this one  11 Dutch Oven Breads and Dessert Rolls Camping Recipes
Campfire Bread Recipes
Clickable Table Of Contents
Campfire Flatbread Recipe


Basic flatbread allows for a great deal of variation and flexibility. You can add any spice to it you like. Skip the measuring cup and concentrate on the consistency. Once you have tried this recipe a few times, you can invent different ways of making flatbread.
(Makes about 4 rounds)
1 cup flour
1 tsp baking powder
½ tsp salt
About 275 ounces of water
Oil for Frying
Spices:
Cumin powder
Caraway Seeds
Sunflower Seeds
Cinnamon
Mix the dry ingredients.
Add about half the water to the dry ingredients.
Mix until the dough is crumbly.
Add the rest of the water until the dough comes together.
Form the dough into a ball, and flatten them into rounds.
Heat a  lightly oiled pan over your campfire or camp stove.
Place our flattened balls into the frying pan and cook for about 2 to 3 minutes on each side.
Yummy with Dutch oven stew or chili.
Variation tip- Instead of using a frying pan over a campfire, try cooking the flatbread directly over a grill. You can try this with a standard grill, or you can buy special grills that sit over a campfire. This is our favorite way to make bread and even biscuits when camping.

Campfire Bannock Bread

Bannock is the original North Amerian camping bread. There is a specific heritage attributed to Bannock bread that comes from native northern Indian tribes like the Cree and Nunavut. The ingredients to Bannock bread are probably sitting in your pantry or camper. You can prepare Bannock bread in your camp and cook over an open fire by several methods. Bannock bread is not a high-rise yeast bread, but it is yummy with jam or honey.
3 cups all-purpose or whole wheat flour
2 tsp salt
2 Tbsp baking powder
½ cup powdered milk
1 tsp sugar
¼ cup shortening (lard, bacon grease, melted butter, any oil)
2 cups of water
Oil to fry the bread in.
Mix dry ingredient in a large bowl or zipper closed plastic bag (knead it with your hands.)
(You will need a bowl for this part). Add shortening and work it into the dry ingredients until you get an even meal consistency.
Add about half of the water and stir with a fork.
Keep adding water and mixing until you get a good kneadable dough consistency. Make sure it is not a thin batter.
Turn out the dough onto a floured flat surface and knead it for a minute or so.
Press into paddies about ¾-inch thick for frying or baking.
Fry or cook to a deep golden brown on both sides or until a toothpick inserted in the center comes out clean.
Campfire Bread in a Clay Pot

Some campers use old kitchens cookware for campfire baking, but the open flames leave the food in these pans charred and burned. Try using his easy creative break baking idea. All you need is a cheap clay flowerpot, pre-made dough from home, cooking, oil, aluminum foil, and an open campfire. (Okay you may not want to take a clay pot you when you are tenting it, but whether you are tenting or RVing, this will be fun.)
Clay Flowerpot
Olive or cooking oil
Aluminum Foil
Bread Dough (ready-made or bring your own)
Clean out your pot
Cover the hole at the bottom of our pot with aluminum foil.
Add a layer of oil to the top of the foil.
Drop your dough into the pot and leave about 1/3 of space at the top to allow room for the bread to rise.
Brush oil generously over the top of the dough.
Cover the top of the pot with foil. Leave a dome at the top of the aluminum foil to give the bread room to rise
Place the pot directly on the hot coals in the campfire.
Let it cook for about 20 minutes (the smell of bread baking will give you a clue when it's close to being done).
Remove the clay pot out of the fire using tongs. Let it cool for at least 5 minutes. Cooling off your pot will make it easier to lift the bread out of the pot.
link to 11 Dutch Oven Breads and Dessert Rolls Camping Recipes
11 Dutch Oven Breads and Dessert Rolls Camping Recipes
Campfire Bread in a Can
Similar to bread in a clay pot, you can make campfire bread in a can, and it will turn out awesome. Easy recipe to make.
Things you need (Ingredients)
Two metal cans. One should be small can similar to a 28 oz soup can and one larger like a coffee can. The small can needs to fit inside the larger can without touching the sides.
One pound of bread dough
Butter (both for spreading and cooking)
Get your fire going, so it will have nice coals for baking.
Grease the inside of your small can with butter or cooking spray.
Put the dough inside the can and cover it loosely with foil.
Place the can on the far side of your fire or somewhere warm but not hot.
Let the bread rise.
As the bread rises,  prep your large can.
Put about two inches of rocks in the bottom of the larger can. Rocks on the bottom is an important step and will keep your bread from burning.
Once your dough has doubled in size, it's time to start baking it.
Remove the foil and place the small can inside the large can.
Use another piece of foil and cover the entire thing – tops of both cans.
Poke a few holes in the top of the foil.
Set the entire package deep into an area of dense red coals.
It can take 45 to 60 minutes to cook, so check your bread ever so often. When done, the top of the bread should be golden brown.
Remove the cans from the coals and take the smaller inner can out of the larger can.
Remove the bread.
Cool for about five minutes (if you can) and slather it with butter.
You can also use the can method for soft bread-like banana, carrot, or zucchini bread. Remember to fill ¾ of the can with batter, so it does not rise over the top!
Campfire Damper Bread or Bread on A Stick
Add honey and butter to your finished product, and you will have a camping favorite. Your kids will love to make and knead the dough and divide it into portions. Wrapping each portion around the top of a long stick makes my kids almost giddy.
2 cups flour and extra for kneading
1 ½ tsp salt
3 tsp baking powder
2 tsp sugar
2 Tbs butter
1 ¼ cups milk
3/4/cup honey, jam or Nutella (for serving)
Combine flour, salt, baking powder and sugar in a large bowl. Add the butter and use your fingers to rub the butter into the flour.  The final result should resemble breadcrumbs
Gradually add the milk and knead to combine. Add just enough milk to make a dough that isn't too sticky and can be kneaded easily. If the dough is sticky or wet; it will drop off the stick when being cooked.
Add a little extra flour if your dough is too sticky or wet.
Knead into the bowl for about 10 minutes until soft and elastic.
Divide the damper into six parts.
Form into balls
Shape around the top of the stick.
Cook the bread over the fire for about 10-15 minutes, turning the bread regularly.
Once it is golden brown on all sides and looks cooked or when tapped, the bread sounds hollow then your bread-on-a-stick is done.
Wait for 5 minutes for cooling.
Remove the brad from the stick, fill it with your favorite filling, and eat!
(https://www.ediblecommunities.com/recipes/easy-campfire-damper-bread/)
Open Fire Bread
Bread cooked over an open fire has a distinct taste of the outdoors. You can cook this bread and serve it with link sausage, hamburger, ham, and cheese, or anything else you want.
2 packages of active dry yeast
2 tsp honey
3 cups warm water
2 tsp salt
1 Tbs vegetable oil
7 to 8- cups of flour
Combine yeast, honey and 2/3 cup water in a bowl. Mix well.
Let the mixture stand 5 minutes.
Add salt, oil remaining water and 6 cups of flour. Mix well.
Add enough remaining four to form a soft dough. Turn on a floured surface
Knead until smooth and elastic or about 6-8 minutes. The dough should be soft and slightly sticky.
Place the dough in a warm, greased bowl, turning it once to grease the top.
Cover and let rise until doubled. Or about 1 hour.
Punch dough down.
On a heavily floured surface (parchment paper on a picnic table works well) roll out dough to ¾ in thickness.
Cut the dough int 4×1-in stricks with a pizza cutter or sharp knife.
Sprinkle with flour.
Place on a floured baking sheet.
Let rise until double or about 24-30 minutes.
Once the bread has risen, place strips directly on a grill over the fire.
Grill uncovered using medium-hot heat until golden brown or about 6-8 minutes.
Turn it often.
Eat.
Dutch Oven Campfire Bread

Dutch Oven Bread is fantastic. One of the most favorite things a camper loves to cook in the Dutch Oven is bread. You will need a 12-inch Dutch oven and all its necessities, an awesome fire or charcoal briquettes at the right temperature.
3 cups flour plus extra for kneading and shaping
2 tsp sea salt
1 tsp Red Star active dry yeast
1 ½ cups warm water
In a large bowl whisk flour, salt and yeast until well mixed. Pour in warm water and use a wooden spoon to stir until a dough forms. The mixture will be sticky and wet to the touch.
Cover the bowl tightly with plastic wrap and set aside in a warm place for about 8 hours or until the dough rises, bubbles form and the bread flattens on top.
Get your coals ready and heat your dutch oven to 450⁰F.
Punch down the dough. Flour a sheet of parchment paper and transfer the dough to the paper. Flour your hands and shape the dough into a ball.
Place the dough on the parchment paper and sprinkle with flour. Top with plastic wrap and rest for 30 minutes.
Heat the Dutch oven over the coals until the Dutch oven is hot to the touch.
Transfer the dough into the oiled dutch oven.
Bake the bread in the dutch oven, covered, for p to 45 minutes. Check halfway through the cooking process to ensure it is not burning.
Use 8-10 coals on the bottom of the Dutch oven and 10-14 coals on the top.
When the bread is golden brown on top, take it out of the Dutch oven and cool slightly before slicing.
Campfire Pull-Apart Garlic Bread
Great camping appetizer that will keep your family and friends coming back for more. Throw this appetizer together in almost no time at all.
1 loaf crusty artisan bread
5-10 garlic cloves
½ cup parsley
½ teaspoon salt
Pinch red pepper flakes
½ cup olive oil
1 cup shredded cheese
Slice the bread into ½-1 inch slices horizontally and vertically. You are creating square but make sure not to slice through the bead. The pieces need to remain attached to the base of the loaf.
Place the load into the Dutch oven.
Mince the garlic and parsley, mix then with salt, red pepper, and olive oil
Drizzle the garlic her mixture onto the cracks.
Layer on the cheese.
Place the lid onto the Dutch oven and set over 5 prepared coals. Place up to 15 coals on the lid. Bake until the bread is warmed through and the cheese is melted.
Take out of the Dutch oven, put it in the middle of the picnic table, and watch everyone gobble up this appetizer.
Campfire Alaska Sourdough Bread
Sourdough bread has a sour taste and has better "keeping" qualities than yeast bread due to the lactic acid produced by the lactobacilli. Sourdough traditions were taken into the Alaska and western Canadian territories during the Klondike Gold Rush if 1898. Camp cooks carried a pouch of started around their neck or on a belt. Sourdough starts with a pre-ferment mixture of flour and water containing a colony of microorganisms including wild yeast and lactobacilli found in flour. It is the "yeast" for sourdough bread.
1 cup starter
2 ½ cups warm water
4 Tbsp melted lard (shortening or butter)
½ cup of sugar
1 Tbsp baking soda
1 Tbsp salt
8 cups of flour
Combine all ingredients and knead until the dough is smooth. Place in a greased bowl and set in a warm place. Let rise until doubled (about 1 hour). When doubled, knead and let rise once more.
Shape in loaves and bake at 375⁰.
Cook your Sourdough in a Dutch Oven. It comes out golden, crusty, and sour. Try baking you sourdough like a hearth loaf which is free form (you don't make loaves), and you can slash the top of the bread with a knife leaving a beautiful crack in the top. If you are baking a sourdough loaf in a 12 inch Dutch Oven, use about  10 coals on the bottom and 12-14 coals on the top. You will need a few more coals than regular bread to make sure sourdough bread gets fully baked.
One cook interviewed about her sourdough bread and camping, recommends doing the entire process at camp rather than trying to travel with blobs of dough. You may think this disturbs your camping experience, but what better way to have a full camping experience than making and baking sourdough bread in the campground?
Camping is always a great deal of fun, and it is even better when you make bread right in the campground. You don't have to make the traditional loaves of bread – that would require bringing an oven to camp. Try bread in a can, camping frybread, bannock, bred, bread in a Dutch oven, bread on a stick, or even sourdough bread.
More articles you will love
Smoking Meat With No Smoker While Camping ( instructions and Recipes )
4 Must-Know Ways To Cook Over A Campfire Without A Grill
12 Dutch Oven Campfire Dessert Recipes You Will Want To Try
How To Preserve Food For Camping ( Don't let your food spoil )