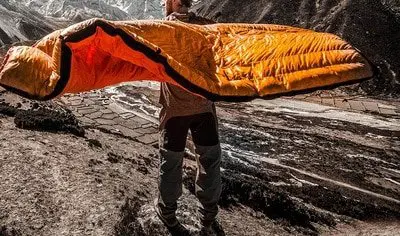 The most important thing when it comes to choosing a sleeping bag is finding one that will keep you comfortable and help regulate your temperature at night.  Several components go into the perfect sleeping bag and many of them depend on where you'll be camping and what the weather will be like.
So what is the best sleeping bag material?
For camping trips with temperatures wet climates above 40 degrees, the best sleeping bag materials are ones that have a shell and liner made from nylon or polyester and a synthetic filling. For dry climates with temperatures below 40 degrees the best sleeping bag materials are nylon shell with down feather fill. The best materials for wet climates are nylon with synthetic fill and the best sleeping bag materials for dry climates are nylon and down feather.

However, the best materials for sleeping bags can vary depending on variables such as terrain, temperatures, and moisture.
We will cover all the materials and cover the terrain, temperatures and moisture conditions each one is best for.
Here's what we will cover.
Clickable Table Of Contents
Shell Materials for Sleeping Bags
The shell or exterior material of a sleeping bag is important when it comes to water resistance and durability.  Some manufacturers may apply a durable water repellent (DWR) finish to help the bag further resist water.
Polyester, Nylon, and Taffeta
For a soft and smooth fabric, choose either polyester or nylon for the outer shell of your bag. These materials provide a high level of comfort while remaining breathable, so you don't overheat.
Because they are synthetic, they are quite affordable but are not as durable as other fabrics. If you're camping in wet weather, you may want to waterproof the shell for additional protection from the elements.  This type of shell is perfect to use in moderate weather during the spring and summer.
While taffeta is a traditional fabric for formal dresses, it is also another synthetic option when it comes to liners.  It is similar to polyester and nylon but is usually slightly better in quality and is not often seen used in sleeping bags.
However, polyester, nylon, and taffeta are not as durable as other shells so they aren't recommended for camping trips where the bag will be put to the test.
These materials are best for saving money and for intents, treehouses and general indoor use.
Ripstop is made from nylon or polyester but differs because the threads are much heavier due to being reinforced. This helps to strengthen the shell and make it stronger so it won't tear as easily.
It also helps to keep out moisture but is still a pretty breathable material.  This material is best when camping in conditions that aren't too wet.  Because of its durability, this is a good option for those who will be using their sleeping bag quite a bit.
Ripstop is the best material for hiking in dry climates. It is durable and can stand up to rough terrain but not ideal for wet conditions.
Dryloft is the most expensive material for sleeping bags.  It is water-resistant while still remaining breathable and comfortable.  Dryloft is the best material when it comes to water resistance.
Gore-Tex fabric isn't ideal because it doesn't have excellent breathability and ends up trapping moisture inside the bag.
For cold and wet weather, Dryloft or Gore-Tex is the best shell materials, especially if you are using down filler for insulation. While they are more expensive, they are also water resistant and since the performance of down filler will be greatly reduced by moisture, Dry-loft or Gore-Tex will be your best bet.
DryClime, Microfiber, and Gossamer Micro
Microfiber is a lightweight fabric that features a tight weave to repel water easily.  They are one of the best shells when it comes to water resistance and also have some degree of wind-proofing.
These materials don't feature heavy threads like Ripstop, so they aren't as durable, but they are a bit softer.  The materials are quite durable and feature tightly woven materials to help resist moisture.
These materials are best in cold, wet and windy conditions. Ideal for mountain climbing trips but since the material isn't as durable as ripstop, sleeping bags with these materials as shells should be used inside tents when possible.
Although cotton and wool can be used, they are not as common because their features are not ideal for sleeping bags.
Wool can effectively repel water and won't compress a lot when slept on, but this material is very heavy, making it ineffective for most camping trips.
Because it is affordable, cotton is an option for those who will be using the sleeping bag indoors at a sleepover, for example.  It is also heavy and does not resist water or provide insulation if it becomes wet so it is not ideal for outdoor camping.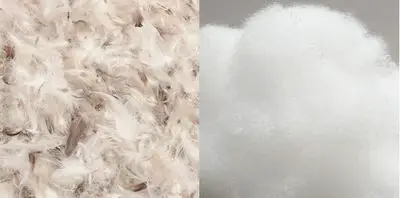 Sleeping Bag Fill Materials
The two most common fills for sleeping bags are down and synthetic.  Choosing a good filling is important because it provides the majority of the insulation to keep you warm.
Sleeping bags filled with down are much warmer than synthetic filled bags.  They are also much more lightweight, making them perfect for backpackers.  With the fluffy goose down inside, they make for a very soft bag which can be fluffed up after it is unpacked.
Because they are filled with feathers, they can be compressed quite a bit and will take up less room in a backpack.
The biggest downside to a down fill is that it will not insulate when wet compared to synthetic fill.  It's also important to keep the bag dry when it is stowed away but this is easily accomplished with a bag cover or waterproof sack.
Down sleeping bags are a little more expensive but they make up for it in durability and last much longer.  After several years, the bag will also start to lose some warmth as the insulation starts to break down.
Down insulation materials are the best material for cold-dry climates and should only be used in wet climates if they are protected from moisture in a tent or other shelter.
The biggest pro of a synthetic fill is that it can still insulate and retain heat even if it gets wet.  It will also dry much faster than a down bag if you're camping in damp conditions.  However, this is not a guarantee that you will stay warm should you get drenched or if the bag gets soaking wet.
Although synthetic bags are slightly heavier and don't compress down as much as down bags, they are great for camping at designated sites when weight isn't an issue.
Bags with synthetic fill are also much more affordable than down and are a good starter sleeping bag to test the waters of camping.  If you end up rarely using the bag or decide you don't enjoy camping, then you won't have spent too much up front.
Other than the weight issue, synthetic bags don't last as long as sturdier down ones.  But if you are a casual camper who only uses their bag a few times a year, this shouldn't be an issue.
Synthetic bags are also really easy to clean and can be machine washed and dried without getting damaged.
While synthetic bags are not known for cold weather insualtion, there are some synthetic fills that are rated for temperature down to 10 degrees below zero.
Synthetic fill is the best overall fill material for any just about any style camping. They are a little more heavy than down but you can get great insulation that holds up in wet conditions and this material is more affordable.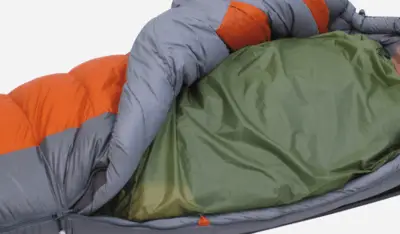 Sleeping Bag Liner Materials

The liner of your sleeping bag should be breathable so you don't overheat or get moisture trapped inside the bag from perspiration or sweat.  It should also be soft and smooth so it is comfortable against the skin.
Nylon, Polyester, and Taffeta
A liner made from any of these materials will provide a smooth inside layer so the bag doesn't feel scratchy or rough against your body.  They also don't get as hot from lying on them for a continuous period of time so you'll be comfortable all through the night.
Nylon and polyester are the most common materials and taffeta is a slightly higher quality option.
Since hese liners are breathable and don't heat can pass through them easier than other materials, they are great for mild and warm climates.
Known for its warmth, fleece is perfect for winter camping because it helps to trap body heat and keep you warm.  It is still soft to the touch but, because it traps heat so well, it can become really warm after lying on it for a while.
This is the best liner material for cold conditions. They will add another layer of insulation to your sleeping bag.
A silk liner will be incredibly smooth and soft while also trapping in heat and remaining breathable.  One of the downsides is that it is very expensive and, because it's so delicate, it can easily tear if you're not careful.  Once damaged, getting it repaired is also quite difficult.
Silk is the best and most comfortable material for things like glamping, but it is delicate and shouldn't be used for outside conditions.
These two natural materials are great for offering not only breathability but durability.  They are also quite lightweight and easy to clean.  If they get damaged, repairing them is a breeze.
Cotton and flannel are the best liner materials for generally mild conditions.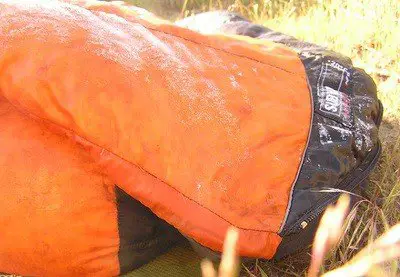 Temperature Ratings
Some sleeping bags have a temperature rating based on their shape and the materials used. In the United States, there is no standard rating for sleeping bags.
While some US manufacturers may rate their bags, the temperature rating can vary between companies and is not always a good measure of the bag's ability to insulate.
However, in Europe, EN 13537 is the standard used to categorize temperature ratings on sleeping bags.  This standard was introduced in 2005 and has since been superseded by ISO EN 23537.
Bags are tested using a heated or thermal manikin covered in sensors which allows various areas to be heated to a specific temperature while the amount of output necessary to heat is measured by a computer.
This system has four temperature ratings:
Upper Limit – this is the highest temperature that an adult male can sleep without sweating too much
Comfort – this is based on an adult female being able to comfortably sleep at night; women usually have a greater decrease in body temperature at night compared to men
Lower Limit – this is the lowest temperature that an adult male can sleep comfortably
Extreme – this is a survival rating and is tested only for males as the lowest temperature at which they could survive in the bag
All the ratings assume that a sleeping pad is used for additional insulation beneath the sleeping bag and that the person sleeping inside is wearing a minimum layer of thermal underwear.
The rating usually tells you the lowest temperature that it is possible to keep warm in that particular sleeping bag.  Of course, adding layers of clothing or an additional liner can also improve the comfort and warmth of a bag.
Best sleeping Bag material for Children and Babies
Although the materials used in bags for young campers may be similar to what you will find in an adult sleeping bag, there are a few other minor differences.
Because children will quickly outgrow a sleeping bag, the cost is usually a significant factor in selecting a good bag.  Size is also important so that the bag fits well and there isn't a lot of room for air to circulate and cause a chill at night.
If you'll be camping with your kids, then finding a bag that is warm enough is vitally important. Although you may be tempted to buy a cheaper bag, don't skimp on insulation or your child may get cold while sleeping.
Many children do get quite warm at night, so a three season sleeping bag should be sufficient unless you will be camping during the winter.  The bag should also have a zipper that can be easily undone to prevent overheating.
For the most warmth you will want down material in their bag but be aware that some children have allergies to down materials. You will want to check for allergies beforehand and if a child is allergic, you will want to go with a quality synthetic material as a filler. The shell of a sleeping bag should be durable but not irritating for kids. This means a nylon shell would be the best suited for the job.
Things you should consider when choosing the best materials for your sleeping bag

With all this information it can be overwhelming to try to select the perfect bag, especially when you only want to buy one.  To help make the decision a little easier, there are three essential factors to take into account.
For those who backpack a lot and will be carrying their sleeping bag for many miles, finding a lightweight option will save you a lot of pain and wasted energy.  To ensure the bag is easy to carry, opt for a down fill to reduce the weight and are easier to compress than a synthetic sleeping bag.
A bag with down filling will make it easy to fold it up and stuff it inside a backpack.  You'll also want to invest in a waterproof stuff sack or cover to make sure it stays dry.
However, if you know that you will be car camping or staying at a designated site where it's easy to haul all your equipment along with you, the weight won't be significant.
In that case, get a synthetic fill bag and bring a nice pad to put underneath it for extra comfort and cushioning.
Where do you usually spend your time camping?  During which seasons do you take the majority of your camping trips?
If you are a three-season camper, then you won't need a bag with down to keep you warm. You can opt for a lightly filled bag for warmer summer nights instead.
For those who love winter camping or will be in extreme temperatures, then getting the warmest down option will be vital for a comfortable night's sleep.
Do you go camping every weekend or are you more of a once-a-year kind of outdoor adventurer?  How often your sleeping bag gets used will help you decide if you should invest in a material that is sturdier and less likely to be damaged.
If you rarely use your bag and take good care of it when you're not camping, then don't worry about splurging on materials with extra heavy threading or reinforced stitching.  Instead, get an entry-level option made from polyester or nylon.
If you know the bag will be worn down at the end of the season, invest in one that will hold up to multiple trips and last as long as possible.  Take extra care to store it in a cool, dry place when you're at home to extend its life as much as possible.
Although the previous three considerations are the most important when it comes to deciding between the various materials, the price is also a factor in selecting a bag.  If you have a big budget, you can splurge on a down-filled sleeping bag with a silk liner, for example.
But if you'd rather put your funds toward a high-end tent or other gear, get a more affordable sleeping bag or look into how much it would cost to make your own.  You may be able to source the materials for a fraction of what it would cost to purchase a brand new sleeping bag.
Do you have a favorite sleeping bag? What are the materials? We would love you hear from you so be sure to comment.
Related articles
Why you need a sleeping bag liner.
Are down sleeping bags better than synthetic?